Capitalizing on the serious lack of storage for most devices, the creators of the ReVault smartwatch want to free up your overburdened devices, no...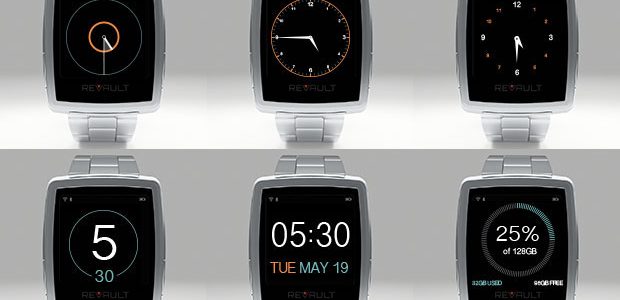 Capitalizing on the serious lack of storage for most devices, the creators of the ReVault smartwatch want to free up your overburdened devices, no matter the platform, with wireless, encrypted connectivity.
With the announcement of the 256GB iPhone 7, Apple finally announced the end of the 16GB iPhone. It was way overdue.
For many users, even 256GB of storage goes fast. Savvy users keep everything on the cloud, but most people are not that organized. Moving and organizing files, as a task lives right next door to finally dropping a few pounds.
Meanwhile, both our phone and our belts carry around more junk than they should. ReVault offers a reasonable solution.
Baked into a lovely timepiece, ReVault does so much more than tell the time. It gives you up to 128GB of storage, no matter where you need it. Not only that, your data is safe.
The only catch? You can't buy it yet. It's still crowdfunding on Indiegogo.
Timepiece
Despite the haters, square smartwatches will do the same thing that they've always done: sell.
It's true that the tradition of watches is the round-faced design, but it's also true that cars were once pulled by horses. We adapt as necessary.
The square design offers so much more space for designers to cram technology. We'll come back to that.
From the face, the ReVault looks like a little like the old Asus Zen smartwatch. It sports a slightly curved, silver bezel facing. The glass is Corning Gorilla Glass 3 with NDR. [Read: tough]
The overall design allows you to wear ReVault on your wrist, attached to a strap, or hanging from a chain like a pendant.
Strap options include leather, steel mesh, or tapered steel. Of course, you have a selection of faces too. You can keep a traditional or digital watch display, or display storage info.
Technology
There is nothing about the smartwatch that says fitness.
Other than tell you the time of day and the date, the simple goal of ReVault is giving you more storage without the need to rely on the cloud.
For many users, storing on the cloud is too risky. Cloud storage is easily compromised. ReVault is not. Your alternative is to carry other storage devices, but those can be a hassle to use. They can also be easily lost.
The data backup on ReVault is as easy as connecting via Bluetooth or WiFi. It will connect with iOS, Android, Windows phone and more, but there will only be an app for iOS and Android.
ReVault encrypts your data, so there's no chance someone could adulterate that data en route.
Storage
ReVault comes in storage formats ranging from 32GB or 128GB. The data transfer is so seamless, it allows you stream various formats as necessary.
The user experience is just like using the storage on your device. Once you connect it, you won't know the difference.
You can treat it as a bolt on to your device or the means keep your device free of any storage. Photos and other files stream easily to ReVault.
The best part is you won't need access to the internet to retrieve your files when you want them. They are always with you, always safe, with no additional fees.
The team behind ReVault is a team of engineers, whose credentials range from fighter aircraft to autonomous cars and helicopters, all the way down to smartwatches. No doubt, they are pedigreed.
For the user would otherwise carry a watch, but needs more storage, ReVault is the perfect solution. It offers three days of operation without a charge.
That means you can even take a long weekend away from civilization before you need to re-up your power supply. For most of us, our devices will run out of power long before ReVault.
It's gonna run you at least $219 for the watch and charger if you donate now. You can also pre-order just the watch for $200.
That's a pretty penny for a watch, but not too bad for a watch with wireless encrypted data storage.
Check out their promotional video.