Whether you like it mild, piquant or hotter than the sun, there's no denying the fact that we all love to chow down on...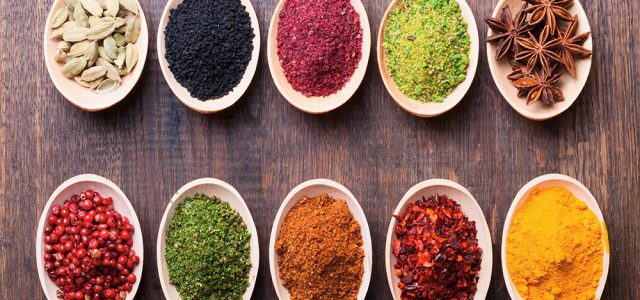 Whether you like it mild, piquant or hotter than the sun, there's no denying the fact that we all love to chow down on spicy food from time to time. It turns out, however, that there might be more to the produce than just great flavor and when it comes down to your health, it can make a really positive impact. There's a reason why people keep coming back to spicy foods time and time again and after reading this, you might just be converted to the hotter side of things. Want to get really healthy? It's time to turn up the heat.
Better Breathing
Do you suffer from clogged sinuses? Are seasonal colds getting the better of you? It might be time to add a little spice into the mix. Spices like turmeric have been used for centuries as an effective cure against respiratory conditions, effectively helping to open up the nasal passages and make breathing a breeze once more. Now, it has been found that spices like this can also help to lower the risk of asthma, laryngitis and bronchitis, reducing inflammation and mucus in the airways. It's time to take a sigh of relief.
Reduce Impact Of Fat
Do you get that pang of regret after indulging in a high fat meal? Incorporating spices into your diet might just help to improve the situation. Many spices, including cloves, have been found to contain high quantities of antioxidants, which in turn can help to improve your body's sensitivity to insulin. A surge in insulin can cause sugars to be stored as fat in the body, so the more effective you are at detecting and breaking down the chemical, the less readily it will be contained within the body's cells. It's that simple.
Cut Down On Carcinogens
Now that barbecue season is coming up, the amount of burned or charred meat that you consume might be on the rise and if you consume too much of the stuff, you risk increasing your susceptibility to carcinogens. If you want to stay on the healthy side of things but aren't prepared to give up your flame grilled steak, then spices might be the answer. Rubbing meats in spice before they are cooked can significantly help to cut down on the quantities of carcinogens by blocking the toxins with antioxidants. Your body will thank you and your meal might just taste the better for it, too.
Kickstart A Diet
Are you struggling to get going with your healthy eating plan? Spices might be the answer. Studies have shown that those who regularly consume red chillis consume roughly 75 fewer calories than those who don't. Better yet, eating the spice can help to increase the number and productivity of your body's "brown" cells, which help to burn calories by increasing your core temperature. Turn up the heat? That's one way to fire up your diet.
Lower Blood Pressure
Worried about the state of your heart? It could be all to do with your blood pressure. Maintaining a steady blood pressure over your life can help to improve the quality of your heart health and reduce your risk of developing disease later in life. How can you go about doing it, though? Studies have shown that consuming more spices in your diet can help to lower your blood pressure by strengthening your heart's walls with vitamins A and C. The stronger your heart, the more effective your body's flow of blood.