Sweet potatoes are always a good idea when it comes to healthy food. Packed full of flavor and highly versatile, the vegetables are a...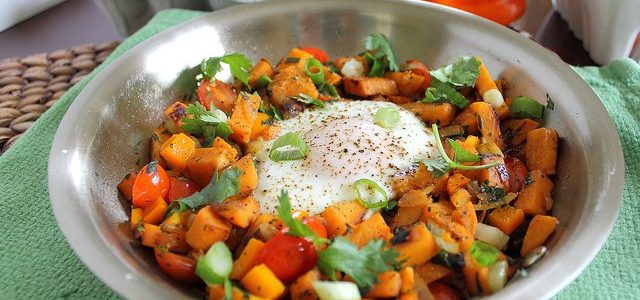 Sweet potatoes are always a good idea when it comes to healthy food. Packed full of flavor and highly versatile, the vegetables are a great source of fiber, antioxidants and vitamins. If you're tired of eating the same old starchy dishes, adding a little sweet potato into the mix can pay off a huge amount. All that's left for you is to grill, roast and sautée to your heart's content and before you know, a healthy, balanced meal can be yours! Let's get cooking.
Not all breakfasts were created equal. This sweet potato hash might just be one of the tastiest dishes you ever sample and, loaded with the fiber rich root vegetable, will work serious wonders on your waistline. There's more to the recipe than meets the eye and whether you look at the antioxidant filled bell peppers, the vitamin C packed tomatoes or the metabolism boosting cayenne pepper, you're bound to find something that you're going to like.
Simple, healthy and whipped up in a flash, these baked potato latkes are likely to become a regular in your breakfast time routine. All you need to do is mix the sweet potato with onions, eggs, flour and panko and you have one of the tastiest ways to start your day. The best part about the dish? The latkes are baked in the oven, meaning you can dramatically cut down on your fat intake and do your waistline a whole world of good.
Sweet potatoes aren't the only root vegetable you should be getting excited about. When the vegetable is mixed with variations from the same family, magical things can happen and pretty soon you might wonder what on earth you were eating before. These honey roasted root vegetables bring together the very best of mother nature's work in one simple dish. All you need to do is chop the veg, season with a little honey and let the oven work its magic. Chewy, caramelized vegetables can be yours in no time at all.
Looking for a lunchtime alternative to your regular salad? We give you the sweet potato bisque. Packed full of a whole load of veggies and protein-rich nut butter, the bisque is one of the healthiest ways to spend your lunch hour. If you want to finish the dish off in the right way, try serving it up with a fresh green salad and a homemade vinaigrette. You won't regret it.
Who said you couldn't have your burger and eat it too? With this vegetarian take on the classic, you might just want to go back for seconds, too. With fiber and protein rich black beans, this burger will leave you feeling a whole lot more satisfied than its meaty alternatives and, low in fat, won't put any extra pressure on your heart. The sweet potato brings the whole dish together to seriously tasty effect.
How do you finish off the perfect healthy meal? With a sweet potato cake bite, of course! Giving the naturally sweet vegetables an even sweeter spin, these miniature cakes are just big enough to satisfy to sweet tooth without piling on any refined sugar. Loaded with dates, coconut and walnuts, the cakes get even better with every bite and you might just find yourself becoming completely addicted to the after dinner treats.