Because every sport needs it's own wearable, even volleyball, golfers have their own technology corner. For a sport as highfalutin as golf, it's no...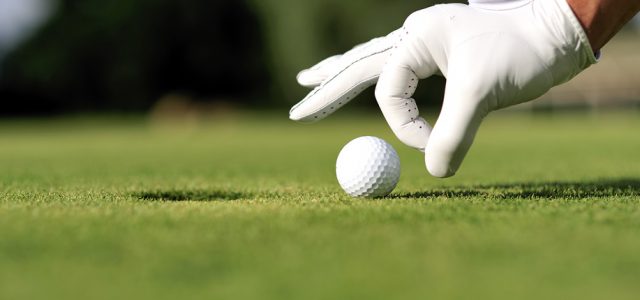 Because every sport needs it's own wearable, even volleyball, golfers have their own technology corner. For a sport as highfalutin as golf, it's no surprise that the number of wearables is endless.
Simply put, golfers like gear. For what is an otherwise simple sport, golf marketers understand golfer's need for fancy gear. They've responded in kind with more wearables than any reasonable golfer could use at one time. We thought we'd streamline the options in one blog.
There are half a dozen grip installations, plus a laser rangefinder that may help your game. They are not truly wearable because they don't go on your body.
There also exists a handful of wearables that happen to track golfing as part of their list of sports. None of these made this list; only pure, golf-branded wearable devices. There might be more helpful devices out there, but they aren't wearables for golfers.
Cost: $249
Buy this easy-to-use, one-button smartwatch knowing you will never use every inch of its data. Impossible.
There are over 40-thousand worldwide courses loaded into this little watch. That's a whole lotta tee time. It's also significant of the sum total of hazards you'll be avoiding when you wear this on the course.
The golfer 2 also brags automatic shot detection, shot history, post-game analysis, and it carries your clubs for you. Alright, you can cross out that last one but it will keep track of your scorecard automatically.
The Golfer 2 syncs automatically, so you are always-on-top of course changes, no matter what. It's even water-resistant in case the sky opens up.
Cost: $5495.00 
The basic vest is wireless, sets up in minutes, tracking your swing via pelvic, thorax and lead-hand movement. It's not a vest, more like a harness, but vest sounds so much cooler.
The designers hope you'll hardly notice you're wearing it, save the improvements in your swing quality. The vest has been around longer than most wearables, especially those on this list.
Over the years they've made improvements to the technology. They've lightened the sensors and harness, improving the UI of the software, that sort of thing. What you have now is a venerable golfing coach used by coaches and players for years.
Cost: $349.99
It seems the benchmark for course data is 40,000 because this smartwatch also retains that many courses. Another explanation is that Garmin and TomTom license their information from the same company.
The S6 is not Garmin's only golf smartwatch, but it's the best one they offer. You get swing metrics, like tempo and strength. Like the TomTom, you also can see the course, identifying where the pin is, even if you can't actually see it.
The display is color touchscreen, and the device is also water resistant. You'll even receive notification from your Android or iOS device. Even with GPS-enabled, this device gives you 10 hours of battery.
Cost: $149.99
What the Zepp offers that many other swing assistance devices do not, is the Zepp system goes on your glove, not your clubs. That means it makes this list. Yay!
Similar to the rest, Zepp uses data collected from your swing, evaluating your problem areas, suggesting training to help you improve.
What the version 2 offers that the previous generation did not, is Bluetooth wireless connectivity, lighter design, stronger battery and more.
Cost: $174.99
Coming up light, with only 35,000 courses loaded in, the Neo Ion still offers two color options.
The display is a little less sophisticated than the Garmin one, black and white versus color, with no touchscreen. Their site emphasizes that there are no monthly fees with this smartwatch, but there are none with Garmin or TomTom's devices either.
For this reviewer's money, the simple color display of the Garmin may be worth spending twice the money.
The clear distinction in this list is the K-vest, which will likely only appeal to 1% of golfers [read: trainers]. The Zepp 2 makes the simplest introduction to wearables.
The standout, if you can handle another $500 device in your life, is the Garmin S6. For golfers, this is the device that does so much but doesn't need to come off between the green and boardroom.
If that's your only concern, you won't be sweating the price tag.