There's no denying the fact that tacos are seriously tasty but healthy, too? Not so much. Loaded with meat and veggies, topped with cheese...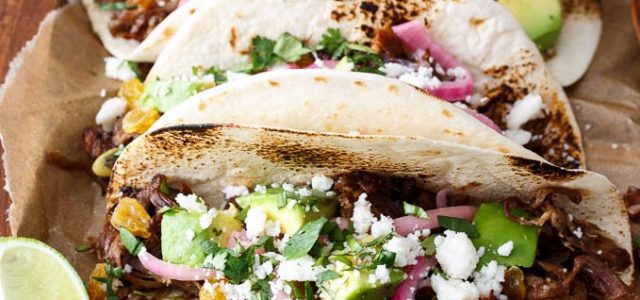 There's no denying the fact that tacos are seriously tasty but healthy, too? Not so much. Loaded with meat and veggies, topped with cheese and stuffed into a crunchy taco shell, the recipe is seriously high on flavor and fat but if you're trying to fit it into your healthy lifestyle, you might be in luck. Adapting tacos for a nutritious diet is incredibly easy and once you see how it's done, there might be no stopping you!
Vegetables? Check. Low fat cream? Check. This healthy spin on the classic dish has everything you would ever want on the nutrition front and better yet, comes bursting with flavor! Stuffing in six separate veggies in one serving, these tacos pack a mean healthy punch and preparing them for your meal will help you get a leg up on your daily nutrient intake. The best part about the dish is that you can put in whatever vegetables you fancy; raid your cupboards and get chopping!
Piling vegetables on top of more vegetables, this nutritious taco recipe will help to give your health a push in the right direction. The portobello mushrooms are one of the most substantial vegetables out there, allowing you to get your meaty fix without even eating any meat. Nixing the fat and piling on the vitamins, these tacos are great for your cholesterol levels and won't leave you feeling heavy!
When is a taco not a taco? When it's served in a potato! Giving an alternative spin to the Mexican classic, these taco potato crisps are filled with all the right kinds of nutrients. Loaded with ground walnuts, cumin and paprika, the recipe is high in omega-3 fatty acids, giving your body a balanced, healthy boost. Serve up with a little sour cream, and you're good to go.
If you're hankering for something a little more meaty, you might want to try your hand at this blackened mahi mahi taco. Thanks to the hearty serving of fish, these tacos come high in essential omega-3 fatty acids, giving your heart health a kick in the right direction. The tomatoes also give you a boost of vitamin C, putting your immune system in the right kind of shape for the months to come.
Grilling and fish go together like two peas in a pod and if you're trying to get on a healthy kick, this recipe is a great way to go about it. Serving up lightly spiced fish on a bed of salad and avocado, the recipe is as simple as you like, meaning you can whip up your ingredients and let the rest do its magic.
Taking influence from the real deal, this healthy take on the taco classic serves up all the essential components with a nutritious spin. Using tender lamb in place of chicken, the tacos are seriously tasty, giving you the chance to try something new. All you need to do it throw on some tequila soaked raisins, mix in a few pickled onions and you have a dish to be really proud of!