Guess came out with their Connect Smartwatch line in 2015. As far as smartwatches go, unless you're a Guess fan, it was a snoozer....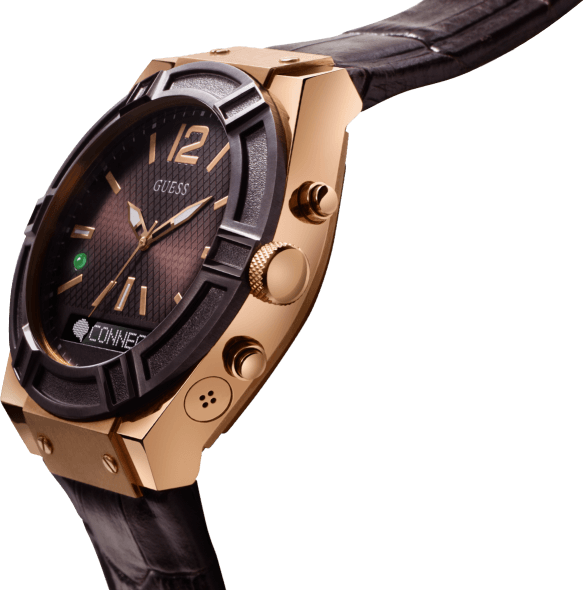 Guess came out with their Connect Smartwatch line in 2015. As far as smartwatches go, unless you're a Guess fan, it was a snoozer. They just connected their Connect watch to Alexa, the Amazon AI, pushing their smartwatch into the limelight again. It may be enough to force Guess into serious tech chat.
When you think smartwatch, Guess is not the first brand that comes to mind. In fact, to be honest I haven't thought much about Guess since the '90s when the brand was at its peak.
Despite a slowdown in the brand's popularity, they've maintained a dedicated group of fashionistas who've always known that Guess was still chic.
From a business standpoint, in the last five years, the trend has been nothing but positive. Your stock in GES stock bought five years ago is worth almost double today.
Does solid growth for a fashion brand warrant venturing into technology? It hasn't stopped a handful of other brands. The Guess Connect is a little more bling than most smartwatch fans prefer, but it hosts some solid smartwatch features in addition to Alexa.
It's not bad in the technical specs department either.
Guess Fashion
How else can I say this? It's shiny. There are seven color combinations for this watch. Many of them all come with crystal lined bezels, the whole way around.
In fairness, a couple of them have no gems, which somehow looks worse to this author. In any case, you should not wear this watch if you wish to stay incognito.
There are two sizes, a 41mm, and a 45mm case. Guess fixed the leather bands to the steel casing of the watch via four little screws. You may be able to change them, but not with ease. Besides, they are color-coordinated with each watch.
The dial is an otherwise simple face, with few distractions, but one. There is a little ticker-style screen just below six o'clock. It's there that you receive messages from your Connect.
Smartwatch Features
The Connect watch will notify you of incoming calls and texts, but you can also reply by speaking into your watch. The device will translate voice to text, so you can use it as a hands-free texting tool.
It will also assist you with making calls, help you set reminders, and facilitate voice command of your phone apps. You can use the Connect watch to take selfies via the camera control feature, but the music control aspect could be handy for tunes on the go.
This watch is not a sports watch. In fact, it's the opposite of one, but if the music function is user-friendly, I could see using this when on a run despite the blinginess of the face.
If you're the sort of person who likes to set your phone down in nefarious places then walk away, Connect has a find your phone feature.
The kicker for this whole list is, of course, Alexa. The addition of a personal assistant means you can connect to the world wide web just by asking your watch a question… maybe. The personal assistant technology is still a work in progress.
Technical Specs
The inner workings of the watch portion of Connect are analog, which means you can expect normal functionality of your watch.
The smart features are all high-tech, though. The Connect watch houses Bluetooth 4.0, with low energy connectivity, so you don't kill your battery in two hours.
The battery that powers the smartwatch portion lasts 3-5 days on one charge. The analog watch features will last for two years.
For notifications, Connect houses a tiny vibrating motor, which is adjustable as you prefer. Best of all, Connect works with iOS and Android phones, so everybody can talk to Alexa on their wrists.
It's not for everybody, but good for Guess with being ahead of this technology. In fewer than five years we'll all talk to our wrists or some such place on our bodies. The wrist makes the most sense next to wireless earbuds or a pair of connecting glasses.
At this point, with our current machine learning, it's a novelty. It may, in fact, be more of a frustration. If you've had any experience with Siri or Alexa, you tire of their inability to find or learn information.
Machine learning is a borrowed phrase. They hardly learn anything, yet, but the future is coming soon. It's gonna land right on your favorite wearables.
Get your own Connect smartwatch or learn more by visiting the Guess Connect site.