StarVox is the first walkie-talkie smartwatch, not yet available for purchase, but is available for preorder on Kickstarter. It solves a problem with which...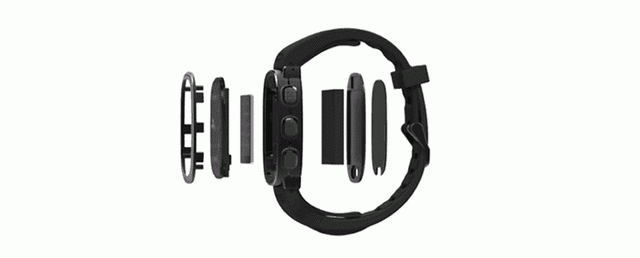 StarVox is the first walkie-talkie smartwatch, not yet available for purchase, but is available for preorder on Kickstarter. It solves a problem with which you may not have familiarity. There are still many places you cannot use cell service.
With StarVox you get all the convenience of walkie-talkie communication, enjoyed by humans since World War II, without all the costs associated with cellular.
That's right. It's fee-free dialing, sorta. Before you toss out your cell phone, consider that the range of walkie-talkies limits you to about a mile apart before they fail.
That's not gonna work when you need to call your spouse to pick up milk on the way home. It will, however, connect you in the wild or in crowded places like festivals or concerts where cell towers suffer signal crowding.
StarVox leverages old-school tech with rugged elegance, keeping you connected to those you love, giving you freedom to roam about the planet.
Rugged Elegance
Styled something like the Garmin Forerunner 920XT, StarVox is a squarish design. There are no hard corners or edges so you won't have any problems sliding shirts on or off.
There are two bezel options, silver or black. The band is thick, flexible silicone, designed to take a beating. This is one smartwatch you won't lose anytime soon.
The display is a 1.54-inch touchscreen color display. No word yet on the glass they will use, but we assume it would be the one of the current standards, Gorilla glass or Sapphire. It would have to be tough to take on the elements.
The watch is water proof from splashes or rain. You can't swim with the StarVox, not if you want it to work for very long, although it may survive a dip in an emergency.
Connected
If you've ever been to a large street or music festival, you know how hard it can be to call others [read: impossible].
Cell towers work fine under normal circumstances, but when too many people in the near vicinity attempt to call via the same tower, all bets are off. Sometimes you can't even text.
This is a problem when you have no idea where your friend went in a crowd of thousands. You'll spend the whole event running in circles, hoping you find your friend.
StarVox doesn't use cell towers. Walkie Talkies communicate directly, something like a longer range version of Bluetooth. The sound quality won't win any awards, but it works.
StarVox isn't your parent's walkie talkie. Heck, it's not even your childhood walkie talkie. StarVox connects as far as a mile away from another walkie talkie.
Unlike some systems, the StarVox in not just one-to-one communication. You can engage in group chat too.
Freedom
Since you wear StarVox on your wrist, the perception of freedom is IMHO greater than cellular.
You don't have to carry anything in your pocket. You'll always know where you can find your communicator. You'll never leave it behind. It will work anywhere on the planet, so long as you're in the range of your friends.
That's freedom.
StarVox will even communicate with other walkie talkies, so not everyone in your group has to be into wearables.
That old walkie your uncle has been carrying since Vietnam, the one he sleeps with? It'll connect.
More
For some, it would be enough that StarVox reinvigorates this viable tech from the '40s in such a sexy format.
StarVox also tracks other data. Yes, it tracks your steps, but also your location via GPS. It can tell you the barometric pressure, your altitude, and the temperature. There's even a stopwatch.
The watch will last about eight days on a charge, the walkie about an hour and a half, so if you plan to gab, don't stray too far from power. It will take about an hour and a half to recharge.
Yes, we know this is some low tech stuff compared to the Series 2 from Apple, but life isn't always about super high tech.
Fine, it is, but StaVox still receives more than a passing grade. It goes in the fun-but-may-save-your-life category.
You can read more on Kickstarter or just sit back and enjoy this video: