If you are the parent of a fussy eater, you know how tough it can be to get a child to eat something they...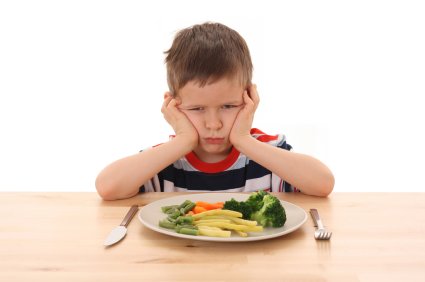 If you are the parent of a fussy eater, you know how tough it can be to get a child to eat something they don't want to. If your child isn't a fan of healthy foods and just wants to eat junk and simply won't eat their veggies, you'll have to get creative in your approach. Here are three ways to help children eat healthier.
1. Introduce it Slowly
No matter how hard you try, your children will not go from happy meals and candy to fruit smoothies and veggies in a day. While they will likely adapt to the merits of the healthy food quicker than you think, it won't be overnight. To start, just give them a bite or so of the healthy food and gauge their reaction to it that way and then slowly increase the amount you give to them. If you just give them a plate full of veggies from the get go, you are likely to turn them off veggies for a longer period of time and make it harder to get them to eat healthy.
2. Disguise the Food
While it is obviously better to instruct and teach your children about the merits of healthy eating as opposed to tricking them, children are notorious for being difficult, so good luck with that. If you have tried to traditional methods, it might be time for you to trick them into eating their fruits and veggies for the time being until they can really understand the benefits of eating well. You would be shocked at the number of different healthy foods that you can make look like food they like and recognize and with a bit of creativity, your child will soon be eating healthy without even knowing it!
3. Get Them to Help Make It
No matter what it is, children love to be involved and help their parents or guardians do things, and cooking is no different. If you let your children help in the food preparation process, there is a really good chance that they will be more willing to eat whatever it is that you guys incorporate into the meal. You should make sure the dish has some things they like and are comfortable with too obviously, but they are likely more willing to eat healthy foods if they helped to make them.