With winter here for the foreseeable future, you might well be looking for ways in which to feel cozy when you get home. Apart...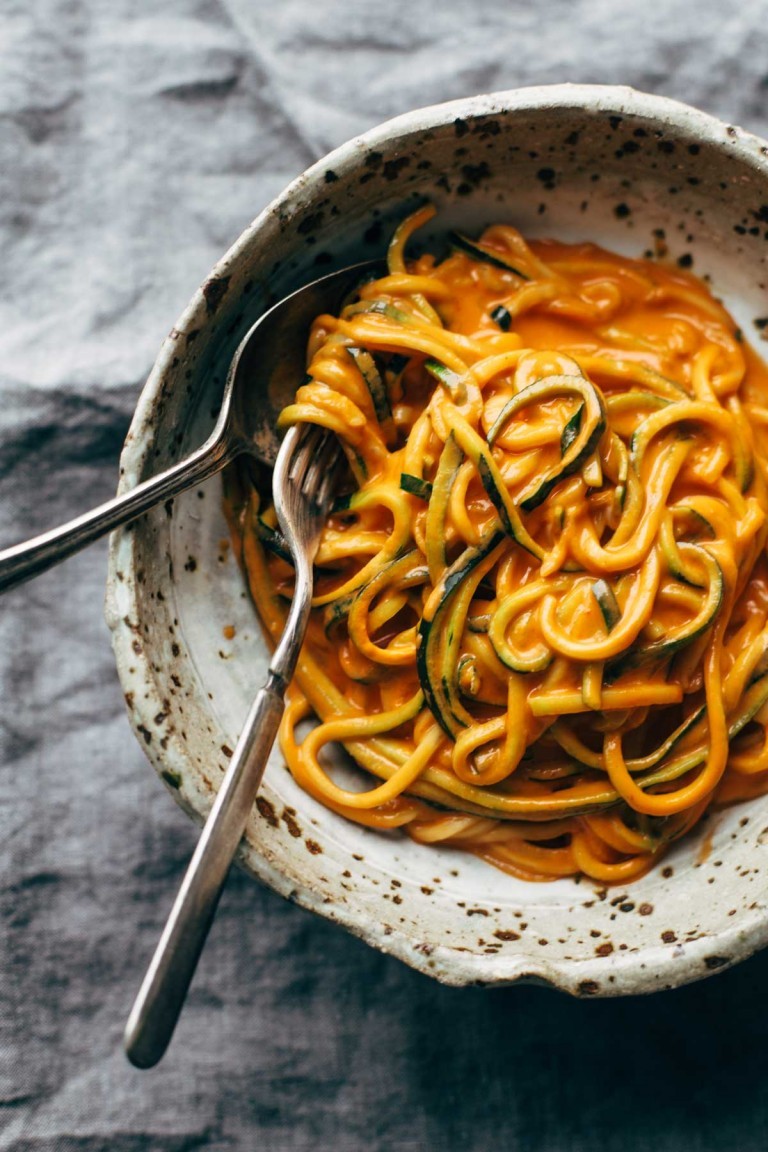 With winter here for the foreseeable future, you might well be looking for ways in which to feel cozy when you get home. Apart from layering on the blankets and lighting a few candles, you can also try whipping yourself up a filling, warming meal. When it comes to healthy comfort food, there is nothing quite as good as noodles and if you're in the mood for some fresh veggies, these dishes might just be the very thing for you.
There is nothing quite like a hearty serving of roasted vegetables. Cooked slowly in the oven, these kinds of vegetables are bursting with both flavor and nutrition, giving you the very best of both foodie worlds. If you're on the hunt for something that's a little more nourishing than veggies alone, this roasted red pepper noodle dish is the one for you. Creamy and rich, the dish uses all the natural flavorings of the ingredients, letting the garlic and red pepper really shine through. Using zucchini pasta, this dish won't leave you feeling heavy, either, giving you the chance to chow down in style.
Feeling a little under the weather? You need to whip yourself up a portion of chicken soup. Practically a cure-all dish, chicken soup is loaded with rich nutrients, helping to give your body a pep up when you're not feeling your best. This healthy broth is loaded with light zucchini noodles for an extra dose of vitamins. Make this in a big batch and dip into it whenever hunger calls.
Noodles and Asian flavors go together like two peas in a pod and in the foodie world, there is no end to the types of recipes waiting to be tried. If you're on the hunt for something healthy and light, this no-noodle pad thai is just the trick. Using raw veggies and a rich sauce, the pad thai is crunchy and fresh and can be easily transported. Make this in the morning and take it with you to work; it will still be in great shape by the time your lunch break rolls around.
Taking an Italian twist with your noodle dish might seem counterintuitive but in fact, it can pay off in a big way. Zucchini noodles are highly adaptable and can be easily incorporated into some of your favorite Italian dishes. This recipe uses red pepper flakes, parmesan cheese and an egg to create a dish that is both brimming with flavor and incredibly simple. Whip this one up when you don't have much time to spare; you won't regret it.
With noodles and shrimp going together better than nothing else, it only makes sense that the same would apply for zucchini noodles. Light and fresh, this zucchini shrimp recipe incorporates the minimal amount of flavorings, enabling each ingredient to really shine through. Giving you a healthy dose of protein, this is a great meal to eat after an evening workout, helping your body to recover all the more quickly.
Changing a classic recipe might seem like a no-go area but by doing so, you can end up with something that is all the more healthy. This spaghetti squash mac and cheese does exactly that, incorporating the vegetable as a way of cutting out the heaviness. The squash makes a great alternative to the noodles, helping to keep you full without loading you up. Top with broccoli and eat your meal in peace.