In development for over ten years, Wove promised to be the greatest thing to happen to wearables since the Apple Watch. It scheduled to...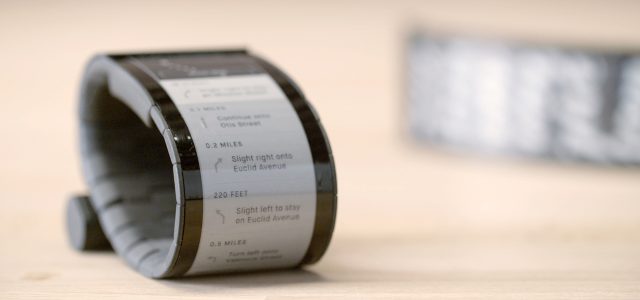 In development for over ten years, Wove promised to be the greatest thing to happen to wearables since the Apple Watch. It scheduled to launch mid-2016, but it has yet to sell anywhere.
Short of reaching out the devs, we spent some time searching the internet for clues, looking in the most obvious places. [read: social media]. To our chagrin, there is little recent information on Wove.
Since we haven't covered Wove on Body Hacks, this also gives us a chance to talk about this mysterious device.
We'll give your run down on the device, what is packs under the hood, but most importantly what we know about it.
From our perspective, Wove has the potential to be a game-changer for wearables, serving many masters (fitness, phone replacement, lifestyle), but will it ever ship?
What is Wove?
In case you've been living in a cave, Wove by Polyera, is the first smart slap bracelet.
Nah, just kidding, but you know those bracelets kids slap on their wrists? Nobody would ever slap his Wove on a wrist, but that's the best way to describe it. Don't say "smartwatch." It's a band or a device.
Utilizing the e-ink reader display style found on Amazon's Kindle, Polyera created a version that flexes and is always on. It is truly a one-of-a-kind wearable.
The dimensions of the screen are more letterbox than any wearable out there. This facilitates wrapping Wove around the wrist.
The length of it affords a large display area on which Wove can display many apps at once. Well, what you call applications, Polyera would like you to call compositions.
What's Under the Hood?
The foundation of the band is Polyera's proprietary Digital Fabric Technology. The device itself runs Wove OS, which is Android based. (Sorry Apple fanboys.)
Memory tops out at 4GB, with 512 MB of RAM, which is not bad. The display is OLED, with a 1040 px by 200 px resolution. For the first version the color will be grayscale, but it provides haptic feedback through its vibration motor.
It carries a 9-axis motion sensor, so yes, it will have fitness tracking abilities. You will be able to connect to Wove wirelessly, through Bluetooth 4.0.
Since 4.2 is the hottest thing in Bluetooth, we wonder if this isn't Wove showing it's gray hairs. Has it been sitting too long on the development shelf? Perhaps this is the holdup. Polyera is spiffing up the 0.1 version this very moment.
So, what's the Update?
We know Wove was expected to make an appearance at CES 2016 but there is no sign they showed.
The blog for Polyera hasn't been updated since September of 2015. Both the Polyera and Wove Twitter accounts offer no further information on the release date. Neither has tweeted in months.
The CEO for Wove, Phil Inagaki, swears that the final product will cost less than the least expensive Apple Watch. Take a big guess who he feels his is the competition.
In fact, Inagaki is not shy pointing out that his is bigger; the display for Wove is six times the 42mm Apple Watch.
Of course, this is speculation. Without getting our hands on the device it's hard to say if these ideas will stack up to a hill of SmartWatches. We aren't on the email shortlist for Wove updates, so Polyera has no obligations to update us.
No news is good news, but we wonder if this isn't concerning. Hope not.
Even if Wove wasn't going to revolutionize wearables, it was going to shake things up. As fitness-minded people, we're all about shaking things up.