If you're going through the motions with your exercise routine, you might become disillusioned with the whole thing, and fast. When it comes to...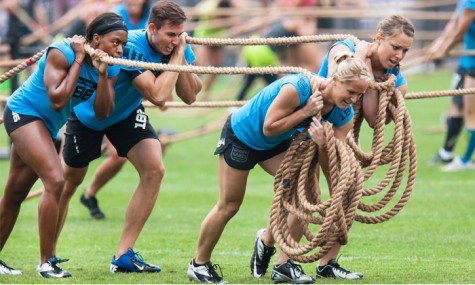 If you're going through the motions with your exercise routine, you might become disillusioned with the whole thing, and fast. When it comes to staying fit, it's incredibly important to find something that you really love to do and that you can envisage doing for a long time. If you're not a gym bunny nor a fan of the solitary workout, you might want to try your luck at an exercise class. While there are any number of different groups out there, some are simply more effective than others. Rather than letting your exercise switch up wait until the new year, why not try and get a hard start now, before the rush? You don't know how much you might like it.
Immersive Yoga
While traditional yoga classes are a fantastic way in which to destress, strengthen up your muscles and boost your flexibility, you can go even better by shifting up the class a little bit. Searching for an immersive yoga class in your local area can help to intensify the experience and leave you feeling all the more strong in the aftermath. Gyms like WOOM Center offer a five sensory yoga experience, tapping into every part of your body at once. Using both visual and aural prompts, the class helps you to relax your breathing and improve your posture, meaning that you can get the best out of every move. Simply dimming the lights and turning on a little music can also help you to focus, ensuring you make the most of every move.
Team Workouts
If you struggle to push yourself to the next level in your workout, it could be worth looking for a team-based exercise class. Boot camps can be great for this, easily building a sense of morale between you and the rest of the individuals there. Better yet, searching for a competitive spinning class can motivate you to push yourself even further than before. Swerve, for example, separates the spinning group into two teams, pitting both sides against each other throughout the class as a way of gaining points. Many cycling classes also use games in the workout to encourage you to work that extra bit harder.
Lifting Clubs
Building your strength is an essential part of losing body fat and toning up your body. If you're just getting started on the whole thing, joining an exercise class can give you all the information you need on the subject and help you to develop the correct technique. Enrolling yourself in a gym that offers specialized weight lifting classes can help you to stay motivated and track your progress over time. Drive Club, for example, offers a fantastic system, helping you to navigate your way around the weights area in the gym. You might struggle at first but over time, the class will help to tone your body in the right way.
Foam Rolling Workout
Mobility-focused workouts are incredibly important if you want to help your muscles to develop and tone up. Keeping your body healthy and injury free will make it easier for you to keep progressing and continue to hit your workouts one at a time. If you're new to the whole thing, signing yourself up for a foam rolling or mobility class will help you to get to grips with the whole thing. A.C.C.E.S.S. is a workout class that has a specific focus on dynamic stretching and flexibility, making it easier for you to get the most out of your muscles. By doing it together, in a class, you can get a better body in the long run.