If you were to believe everything you read, you may think the smartwatch revolution were dead in the water. Third quarter projections were bad,...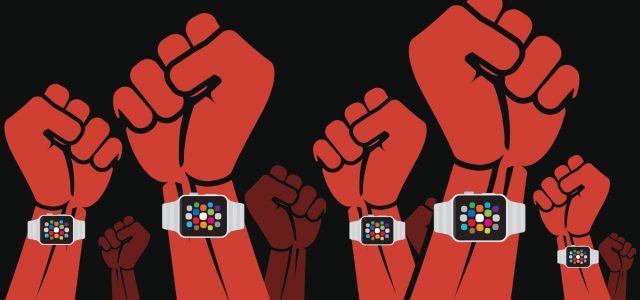 If you were to believe everything you read, you may think the smartwatch revolution were dead in the water. Third quarter projections were bad, like over a 50% decline. You may also be the wort of person who believes we never landed on the moon.
Moon Landing doubters: You and I know we really didn't land on the moon, but all these other guys believe it so let's keep it between us, cool?
Of course, the report from IDC didn't mention that the Apple Series 2 was not included. The announcement from Cupertino couldn't have any influence on sales, right? Anyhoo.
Analysts be damned, the smartwatch battle marches on. To prove that we aren't over the smartwatch, announced by three different companies are three new watches that look like traditional watches. We would argue, as we've pointed out in the pst, that the smartwatch is nothing more than the metamorphosis of the watch. Intelligence is the advancement of our technology.
From the watch company that mastered the art of Indiglo, Timex just announced its second analog smartwatch.
While Timex may not get the props it deserves amongst watch collectors, for the working stiff, they provide solid timepieces at prices anyone can afford.
It could be said that wearing a Timex demonstrates that one's priorities aren't invested in showcasing his net worth on his wrist.
In true Timex fashion, the IQ+ Move is a simple design. It's smaller than the first smartwatch by Times, the Metropolitan+. It will track basic activities, sleep, and connect with your iOS or Android device.
That's not bad for $149. What's more, you'll never have to charge your IQ+. It comes with a  standard battery, which will last about a year with normal usage.
Mobvoi is another Chinese company moving up the ranks of respectable technology start-ups. Ticwatch does a few critical things that many of the other round-faced smartwatches do not.
For starters, the whole screen is viewable, touchable. There is no blacked out area at the bottom. The operating system is proprietary, so it works with Android or iOS, but will also work without your phone. It offers activity tracking and GPS data without your phone.
Connecting with your phone you may also receive notifications about texts or calls. You can even take a call from your watch by flicking your wrist twice.
The Ticwatch screen is touch activated. Mobvoi also included navigational functionality to the bezel, so you can swipe without blocking your view. You can also just talk to Ticwatch. It's voice activated.
You get all this for just under $200.
Frederique Constant Smartwatch
Proof positive that people like to drop some serious coin on watches, the Frederique Constant smartwatch pairs Swiss movement with a high-tech chip in another costly smartwatch.
Starting at just under $1000, it may just be worth every penny. Constant's smartwatches for men or women are not only sexy, they offer a host of smartwatch goodies.
You'll only receive notifications in the Notify versions of the watch, but they all come with activity tracking, including sleep monitoring and active alerts. Those alerts are where you can tell your watch to vibrate if you sit idle too long.
There's even a coaching feature, which will encourage you to go when you don't feel like it. Nothing about these watches from Freddy Constant say smartwatch, so you can conceal all your techie-nerdiness in the companion app.
We'll keep bring ing you all the latest in wearable tech as it comes down the pipe, but rest assured, we've barely witnessed the smartwatch revolution.
Like the rest of the wearable tech circus, we believe that the future will drop the separating terminology. We don't call them wristwatches anymore. They're just watches.
We'll eventually call wearables less fancy names like clothing or watch. Then nobody will question the future of such "technologies." When's the last time you read about the end of clothing?