When you wake up in the morning, what do you do? In the flurry of getting to work, you might gulp down a coffee,...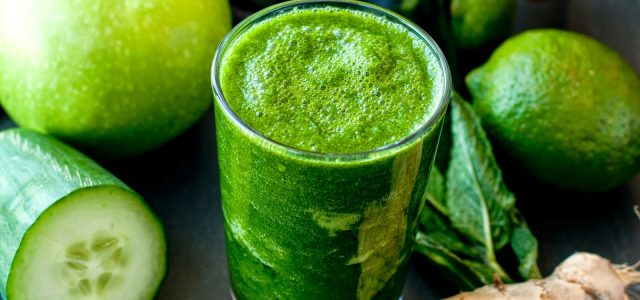 When you wake up in the morning, what do you do? In the flurry of getting to work, you might gulp down a coffee, pack your bag and grab your keys, thinking of little else. Before you even realize it, you can be out of the door, on your way to work without a second thought of what you're going to eat. If this sounds a little too much like your morning routine, it could be time to make a change. Getting a substantial breakfast inside you first thing can help out in a huge number of ways, not least you ability to focus in the workplace. And if you really want to do your body a favor? Try starting your morning with a tasty green smoothie.
Rejuvenates The Body
There's a reason why you were always told to eat your greens when you were younger. Packed full of chlorophyll, green vegetables can help to enhance your immune system, purify your blood and generally, rejuvenate your body. Over time, you can start the day feeling a little brighter eyed and bushier tailed, ready to take on what the world throws your way!
Boosts Metabolic Function
Your metabolism is what controls the breaking down of your food into energy and the more efficient that it is, the faster you will burn up what you eat. If you suffer from a generally sluggish digestive system, then, drinking a green smoothie for breakfast can be a huge source of comfort. Using the whole of the fruit and vegetable, smoothies pack a greater portion of fiber, making your digestive system more efficient in the process. Better yet, the blended fruits are easier for your body to break down, making it easier for you to digest the smoothie and get all of the nourishment you need!
Promotes Weight Loss
One of the biggest myths of losing weight is that you have to eat less in order to see all the benefits. While cutting your portion sizes certainly can help, you still need to consume a certain amount of food in order to keep your body going and for that reason, it pays to have a balanced and nutritious breakfast. Green smoothies are packed full of fiber, vitamin, low fat, carbohydrates and minerals, helping you to get your fill of the good stuff first thing. Better yet, they are low in calories, making it easier for you to stay full without piling on the pounds!
Improves Skin Quality
Chemical cures might seem like the only way to get over a bout of bad skin but when it comes down to it, it's the natural things that can make all of the difference. Getting a balanced mix of vitamins and minerals can work towards clearing up any complexion issues you might be suffering from and help you to feel better about yourself. When it comes to skin clearing, green smoothies are a real power player. High in fiber and vitamin E, the drinks can help to rid your body of any toxins and keep your complexion looking healthy as you age. What could be better than that?