The sun is out, the ice creams are melting and the sprinklers are on. There's no use denying it any longer; summer is here!...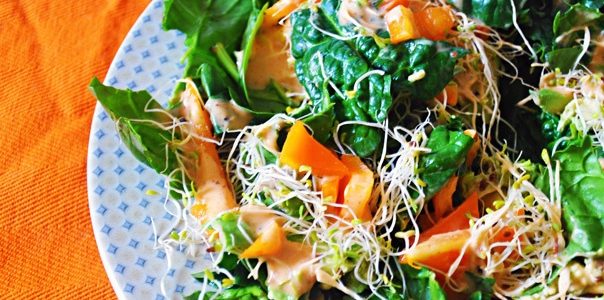 The sun is out, the ice creams are melting and the sprinklers are on. There's no use denying it any longer; summer is here! One of the best times of the year, the summer months are always worthy of being celebrated and whether you like to jet off into the sunset or lounge by the poolside, it's sure that you will spend your season in style. With mounting temperatures, staying hydrated in summertime is of the utmost importance and in order to ensure you get your fill, it pays to adapt your diet. While drinking water is a great way of staying well hydrated, you can also turn to certain foods as a way of getting your fluid intake for the day. These recipes look great, taste better and will work wonders for your health.
There's nothing more satisfying than biting into a fresh and juicy apple and with this triple layered breakfast apple sandwich, you get three layers of deliciousness and your disposal. Brimming with almond butter, chia seeds, honey and dried cranberries, this recipe will help you to top up on your water content and get your fruity fill first thing in the morning. Eat this sandwich fresh; there's no better way to start the day.
Thought that breakfast was all about the fruits and oats? Think again. You can enjoy a healthy, savory breakfast that is packed full of water content and better yet, it can be whipped up in a flash. This quick spring roll comes with jicama and carrots, vegetables that both contain surprisingly high quantities of water. Crunching this breakfast treat is a sure fire way to start the day off well.
When it comes to cucumber and watermelon, few foods come packed with quite as much water. This salad is the perfect way to cool down on a hot summer's day and, brimming with bell pepper and avocado, it will help to boost your health in the process. If you want the perfect barbecue accompaniment, this dish is for you; drizzled with a tequila dressing, the salad will really help you to get in the summer spirit.
Who said that salads had to be boring? This California spinach salad will really help to shake up your routine. While the avocado, spinach and bell pepper are seriously worth talking about, it is the Greek yogurt, lime and chipotle dressing that sends the salad to another level. High in veggies and low in carbs, the salad will keep you feeling refreshed and well hydrated, all day long.
When the sun is out and there's no a cloud in sight, the last thing you want to be doing is slaving away behind a hot stove. In hot temperatures, nothing does it quite like a gazpacho. A chilled soup, gazpacho brings together a blend of tasty vegetables, helping you to boost your water intake and make the most of your nutrients at the same time. This recipe blends traditional tomato with water rich cucumber, letting you enjoy a light and tasty dinner, whenever you want!