We should have expected this when wearables crammed into smart rings. Sometimes wearables have nothing to do with fitness or health. It should come...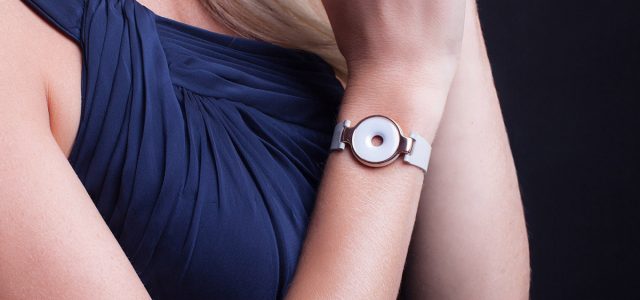 We should have expected this when wearables crammed into smart rings. Sometimes wearables have nothing to do with fitness or health.
It should come as no surprise when a movement within the movement pushes to conceal the truth about wearables. Maybe we can pass them off as trinkets.
Despite what you may prefer, the future of wearable technology isn't more colorful silicone bands. It's in the apparent disappearance of wearables altogether. This list is already on their way, hiding inside handsome jewelry.
Looking like a mounted pre-sucked Lifesaver, the Amazfit is nothing like the other wearables on this list. (I was sad to discover that the round piece is not made of candy, but boring old ceramic.)
The different designs vary from very casual to classy, with hippie names like Equator, Moonbeam, and Rainbow.
Many not the wearables on this list aim to break away from the traditional wearable device. This one does not. It's an activity tracker, which is cool considering the form factor.
You can wear it from the gym to the office, without shame. Heck, wear it to bed too. It will track your sleep quality as well as your steps and calories.
Oh yeah, also unlike other devices on this list, it works on iOS and Android.
Altrius is a simple design. Wear it as a ring, a pendant or bracelet. The design is a rectangular costume jewel, mounted in a gold or silver setting.
What it promises is simple. You will spend less time looking at your smartphone. This could lower your anxiety, thus lowering your stress.
The settings for notifications are on the companions app, which you control from your iOS device.
The downside is, there is no Android or Windows support at this time.
"Jewelry meet technology," reads the home page of Ringly. The name is not the product, but the brand. Ringly makes rings and bracelets, offering the same skills.
The technology in Ringly's pieces is notification-based, similar to Altrius. What Ringly does that Altrius does not offer Android and iOS support.
Priced about the same, Ringly makes the better gift when you're not sure what kind of system the received owns. Of course, if you're shopping these catalogs for gifts, I want to be your friend. You're gonna spend $150-$200 for Ringly or the aforementioned, Altrius.
Something totally different, June is your sexy UV protection wearable. Designs come in silver, gold or platinum.
The shape of the bauble looks like a gem, but it's metal. While not as fancy as the other wearables on this list, it will give your real time feedback on your UV exposure.
June will tell you when you need to reapply sunscreen or just get out of the sun altogether. It's the perfect vacation wearable companion.
On their Indiegogo page, Zenta's creators brand the wearable as stress & emotion management on your wrist.
Vinaya, the creators of Zenta are the same people who brought us Altrius. Zenta, however, works differently. It tracks your body and mind. As you activities impact your stress, Zenta records that data.
Using haptic feedback and notifications, it helps you stay ahead of those stress causing moments. The band is most notable for the large rectangular jewel mounted in the middle.
When it launches, buyers will have options for silicone bands or leather, but they both look very non-traditional wearable.
We anticipate this form factor in perpetuity, as wearable manufacturers figure out what buyers want.
[Hint: It's not silicone.]
Function counts, but we won't know how well devices function until we can get them to keep said devices on their wrists.  That means we have to make devices people will wear.