If you've ever been the victim of cord snagging — where your headphone cord hangs on anything in the gym ripping said headphones from...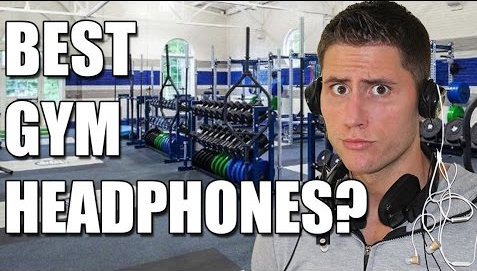 If you've ever been the victim of cord snagging — where your headphone cord hangs on anything in the gym ripping said headphones from your ears — then you know true anguish. It's not only physically painful, it's distracting and sometimes embarrassing.
Your gym-time doesn't have to be like this.
Since the late nineties, we've been perfecting Bluetooth technology, inching down the price as we go. Today's Bluetooth headphones work better than their predecessors, at least somewhat, but what's even better is they are also more affordable.
Broken into three categories, sporty buds, customized fits, and studio styles, here are nine examples which will pump your workouts like nothing else, no snags.
Sporty Buds
Currently, the market is flooded with sporty Bluetooth options for working out. There is usually still some kind of cord, connecting both sides of your head, but you can eliminate better than 90% of snags with these.
Jaybird X2: You will be hard pressed to talk about Bluetooth headphones without mention of Jaybird. Since the first model debuted, the Jaybird earbuds have mesmerized users with their durability. Jaybird is so confident in their reliability, they offer a one-year warranty. For the $179.95 price tag, they'd better. These are the highest priced buds in this category. For the fashion conscious, they come in six different colors.
Beats by Dre Powerbeats 2: While the battle rages between fans of Jaybirds and Beats fans, most folks know that Beats are better for fans of music with bass. Jaybird simply can't produce the thumps of Beats comparable headphones. Also, the Beats come in a little cheaper, at $149.95, available in four colors.
Audiopure: When it's all said and done, some of us simply can't afford the price tag of Jaybirds or Beats. What's more, most folks know that any headphones can be broken, regardless of the warranty. The Audiopure headphones offer a decent sounding Bluetooth headphone experience for less than $100. In fact, they are normally $99.95, but as of this writing $34.95 on Amazon. They come in one color and don't expect that same level of customer service as high-end buds, but they will get the job done about the same.
Customized Fits
Ears are like snowflakes. Each one is unique, so getting the right earbud fit off the shelf is impossible, but you can have customized earbuds manufactured. Until recently, your only option for fitted earbuds were Ultimate Ears or JH Audio, which are studio and stage quality headphones, which only work wirelessly when you strap a transmitter to your body, like a rockstar. This is not very convenient for the gym. Now, 3D scanning and printing make custom-fitted headphones reachable to us non-rockstars.
Earsound Customs: Technically these are wireless, but technically speaking they are not earbuds. Designed to work with your existing headphone option, the EarSound Customs product a customized gasket, which bridges the gap between your headphones and your ear. For $99.00 the team at Earsound will take your favorite earbuds, wireless or otherwise, and customize your own fitting. The downside? You have to go into one of their fitting locations.
Revols: Still in the pre-order stage, Revols bring the custom fitting part of custom headphones into your home. In about 60 seconds, using your own hands, you can customize Revols to you ears with the push of a button. Once they are fitted for your ears, they stay that shape forever. The only downside to these is they do have a wire connecting your left with your right ear. You could still cord-snag them. Pre-order them here for about $200 as of this writing.
OwnPhones: Similar to the Braggi Bluetooth earbuds we talked about here, these earbuds are completely wireless but they are custom fitted to your unique ear canal. OwnPhones have only three models, currently, but the $249 model comes in a variety of colors. What's even better? You don't have to go anywhere for a fitting. Download their app, then take a photo with your smartphone for the mold. Say goodbye to cord snags on anything ever again.
Studio-styles
If you don't plan on running, your options for headphones in the gym open up to more audiophile-type headphones. The great thing about these three headphones is, yes they're wireless so no cord-snagging, but they will really fill your head with music like nothing else.
Plantronics Backbeat Sense: Easily the best thump for your buck, for $179.99 the Plantronics Backbeats are a solid purchase. They come in two colors and offer higher-level headphone features, like sensing when they are off your head to stop the music. Outfitted with Bluetooth 4.0, the Backbeats can also toggle between two different players. Plus, they can even be wired in if the batteries are low, so you can keep pumping.
Parrot ZIK 2.0: Regularly ranked as on of the best audio quality headphones in their price range, the Parrot ZIKs have recently come down in price. They were originally $349.99 but now go for $199.99. That's barely the cost of a new album download over the Plantronics. Plus, you get three different color options with the Parrots and keep features like toggling between two devices or wiring in when the battery is low.
Beats by Dre Studio Wireless: At $379.95, the Beats by Dre Studio Wireless are certainly going to cost you more, but you will get all of that investment back in bass. To a fault, the Dre headphones are known for giving users the deepest experiences. The Studio Wireless come in nine colors, so you can make sure to match you preferred gym shoes.
The market for Bluetooth headphones is getting better every year, but you don't have to wait for improvements in the technology to start pumping your workouts. You have great options right now. Certainly you can find something from the list above to match your lifestyle. Whatever you do, don't forget to charge your batteries, but most importantly don't tolerate cord-snagging. You're better than that.