Workouts are hungry business. Feeling the need to gobble up practically everything that comes your way might be all too real for you after...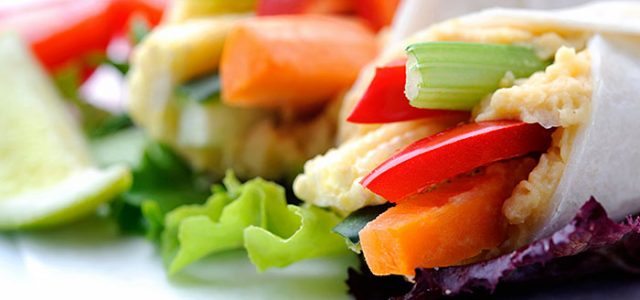 Workouts are hungry business. Feeling the need to gobble up practically everything that comes your way might be all too real for you after a heavy fitness session. If you're trying to improve your health, though, what can you do? If you eat and eat and eat and you're still hungry, it's time to switch up your eating habits. These post-workout tricks will nip any feasting session in the bud.
Fill Up On Protein
If you've just finished a heavy HIIT session or want to fill up after a yoga stint, try turning your attention to protein. The food group is the ultimate to refuel your body, giving your aching muscles just what they need in order to recover. When it comes to filling up the right way, 30 minutes to an hour after your workout is the sweet spot. At this time, your heart rate and blood pressure are still elevated, which helps to boost the delivery of nutrients around your body. Your glycogen stores will refill faster than before and you'll feel less hungry later on; simple!
Add A Few Carbs Into The Mix
While protein should be your snack focus, don't be afraid to throw in a complex carb or two if you're feeling peckish. If you can, try making it a 4:1 ratio, in favor of complex carbs. You will be able to replenish your energy levels and repair any muscle loss that might have happened in your workout. Peanut butter on wholemeal bread can work as a great after workout snack, filling the gap in your tummy and keeping you going in between meals.
Drink A Glass Of Milk
Milk is one of those drinks that just keeps on giving. While it is fantastic for your health on its own, it can work even more benefits if you pair it with a post-workout protein powder. Low fat varieties are even better for your health, helping you to get a hit of healthy protein without loading up your fat stores. Snacking, done.
Keep Dipping Into The Snack Drawer
Ok, ok, so this one might seem counterintuitive but it can really help you to stop pigging out. Grazing on healthy bites throughout the day is one of the most effective ways to stop loading up on the food directly after your workout. Incorporating a couple of healthy, low fat snacks into your normal meal plan will help to keep energy levels up and your metabolism ticking over nicely. Your hunger will become regulated and on the whole, you'll eat a lot less.
Keep It To The One Hour Window
The timing of your post workout meal can make all the difference to how you feel in the direct aftermath. While you do have a little leeway in either direction, your golden window of eating opportunity is roughly within the one hour mark. During this time, your muscles are at their most depleted and weak, primed to take in extra nutrients to build back their strength. Eating within this time frame will help with your recovery, cut down on your hunger pangs and help you to feel stronger. That's not bad for a one hour window.