Now that summer is well and truly under way, it's time to turn up the heat and get out the grill. Having a summer...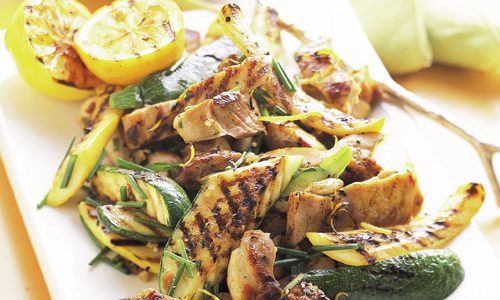 Now that summer is well and truly under way, it's time to turn up the heat and get out the grill. Having a summer shindig is a great way to make the most out of the warmer weather and once you fire up the barbecue, there's no stopping what you can cook up. If you're looking to follow a healthier lifestyle, you're in for even better news and now, there are a ton of easy recipes that will help you to stay on balance. Are you ready to cook up a storm? It's time to take the food outside.
Who doesn't like a good burger? A barbecue classic, the burger is one of the best ways to get into the summer spirit but if you're trying to be healthy, then it might not be the best food choice you could make. Enter the avocado. Packed full of essential fatty acids and great for promoting better health, avocados can make a great meat topping and this recipe might just have you reaching for more. Packed full of healthy veg and tasty dressing, this burger will help to give your health a boost in the tastiest way imaginable.
With all that delicious barbecued food on the go, you might be looking for something to dip into your relish. Forget about traditional fries; these sweet potato variations are packed full of more flavor, better for your health and can be whipped up in no time at all. Crispy and just sweet enough, the potato wedges make for the ultimate barbecue accompaniment and once you try one you might not be able to stop yourself from eating more.
Your grill is one of the best ways to improve the quality of your food's flavor and get rid of a whole lot of extra fat in the process. Need an easy opener? Let this grilled cilantro and lime chicken dish show you the way. Low in fat and high in flavor, the dish makes the perfect option for a lazy summer barbecue, helping you to impress your guests in the process. The avocado salsa on the side is the perfect finisher, adding just enough extra flavor to this delicious dish.
What do you do when the temperature really picks up? Look to the freezer, of course! Your freezer is a treasure trove of cooking opportunity and once you start using it to its full advantage, you can begin to eat really well. For a little after barbecue refreshment, these coconut water popsicles make a great choice. Dotted with your favorite berries, the popsicles are high in antioxidants and, thanks to all that natural fruit, low in unhealthy sugars, too. You can try varying the types of fruits you put inside the popsicles; you're the master of your freezer, after all.
Who said you couldn't go outside of the lines a little bit? Your grill can be used for any kind of cooking that you please and using it can be a great way of discovering the types of recipes that are at your fingertips. These grilled fish tacos are the perfect way to expand your foodie horizons and, cooking on the barbecue, they practically prepare themselves. All you need to do is prepare the marinade, whip up the sauce and you're good to go.
Simple, healthy and delicious, this summer squash and chicken recipe might soon become a regular part of your cooking regime. Containing minimal ingredients, the recipe can be prepared in practically no time at all, giving you the chance to focus on your guests and enjoy the afternoon. Serve everything together in the same bowl and let the flavors infuse together.