Energy levels slumping? It's time to pick up a quick bite! While snacking on the go isn't all about healthy eating choices, you can...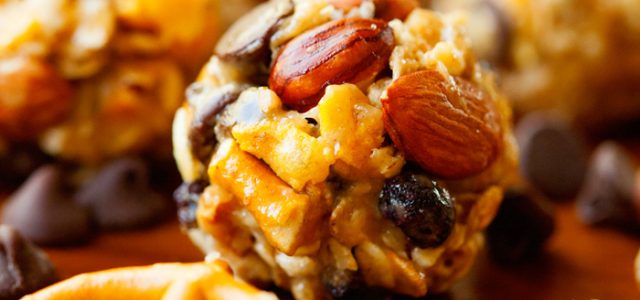 Energy levels slumping? It's time to pick up a quick bite! While snacking on the go isn't all about healthy eating choices, you can supercharge your snack choice by making it yourself. Homemade energy balls are loaded full of protein, fiber and essential nutrients to give you an afternoon pick me up. Simple to make and even easier to take with you, these energy ball might just transform the way you eat, everyday!
Want a taste of something a little sweeter? These cranberry orange energy bites ought to sort you out. Going together like peanut butter and jelly, these two fruits bring out the best in each other in both flavor and nutrition. Packed with sticky dates and finished off with a healthy serving of protein powder, these energy bites will keep you going even on the busiest of days.
Whipping up your own energy bites might seem like a whole lot of time and effort but if you pick the right recipe, you can have something easy and delicious in no time at all. These no-bake apricot bites can be pulled together in the blink of an eye and will keep you going throughout the day. Sugar-free and vegan, these bites are packed with apricots, almonds, walnuts, raisins and flaxseeds. Make up a big batch and take them with you on the go!
Don't be fooled by their appearance; these strawberry shortcake energy bites are better for your health than you might think. Raw and fruity, these energy bites make the perfect dessert alternative, helping you to get a taste of something sweet without going overboard. If you want to go really fresh, you can try adding fresh strawberries into the mix; there's nothing quite like a serving of fresh fruit, after all!
Nuts are a fantastic mid-afternoon snack and when they're included in a healthy energy ball, they get even better. These fruity bites make the perfect option for when you're flagging mid-afternoon, helping you to pick yourself right back up again. For an extra burst of protein, these bites include a healthy serving of hemp seeds. Simply sprinkle over the top and enjoy the snack on the go.
Need a serious kick in the right direction? Let these raw energy power balls show you the way. While the recipe might pile on the ingredients, the raw elements of the balls can be put together in any way you should so please. Chocolatey, rich and nutty, these power balls are great for eating after a workout or a long day in the office. Pretty soon, you'll be back to your normal, energetic self!
Who doesn't love a good classic recipe? These trail mix energy bites take influence from the traditional snack, utilizing the best ingredients to give you an energetic boost in the right direction. Perfect for packing away in a lunchbox or for a road trip, these mini bites are bound to keep you going, even when you feel like you have no energy left. Feel free to play around with the ingredients inside, too; there are endless combinations.
While the words "cake" and "healthy" rarely appear together in the same sentence, these healthy energy bites are just about to change everything around. Whipped up in 15 minutes flat, these cakey bites are perfect if you're hit by a sudden hunger craving. Made up of cocoa powder, almond butter and honey, the bites have a fudge-like flavor, giving you a serious taste of something sweet. Keep a stash of these in your fridge; one is simply not enough.