Summer is the perfect time in which to flatten out your belly. With nothing but salads, smoothies and juices as far as the eye...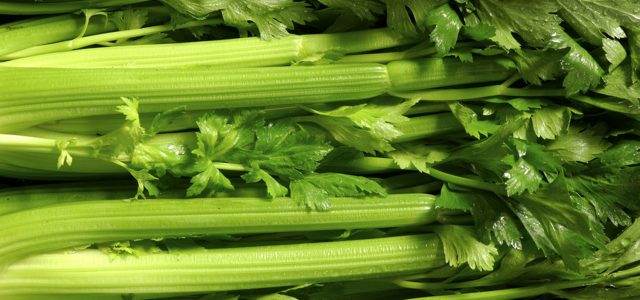 Summer is the perfect time in which to flatten out your belly. With nothing but salads, smoothies and juices as far as the eye can see, keeping your tummy in check seems like a walk in park when the temperature is hot. But when it comes to fall? Not so much. The turning of the seasons leads to a changing in your cooking habits and while you might once have been all about fresh and raw foods before, now, you're likely to just want something warm and comforting. What, though, if there were another way? Fall doesn't have to be just about heavy, calorie laden foods. By turning your attention to the right kinds of ingredients, you can keep your tummy looking as flat as it was during the summer. It's time to wave goodbye to the bloat, once and for all.
Celery
Fall is the perfect time in which to get your cook on, dice up a few vegetables and throw on a soup. While there are a whole range of options out there, throwing a little celery into the mix is always a good idea and might just help you to cut down on the bloating, too. Naturally fighting fluid retention and diminishing intestinal gas, celery is a superhero against the effects of seasonal bloating. A staple ingredient in a whole number of fall dishes, getting your fill of the vegetable might prove easier than you had even imagined.
Turmeric
Turning up the heat is the perfect way to defeat the seasonal cold and if you're going to go spicy with your cooking, turmeric should be your main port of call. A tasty addition to a hearty fall curry, turmeric is a great aid at stimulating digestion. The better your digestive system can process what you've been eating, the less gas build up you will have and the flatter your tummy will be. If you want to really supercharge your turmeric intake, try adding a dash of it to your morning juice. The spice will really kick you into action.
Rosemary
Roasted foods always taste better when they're seasoned with a little rosemary. Used as a treatment against indigestion, rosemary is believed to be kind to more sensitive tummies, helping food to be absorbed and digested in the most optimal way possible. Thanks to its full bodied flavor, rosemary makes a welcome addition to all sorts of fall dishes, making it easier than ever for you to get your fill. You can try adding to salad dressings, roasted vegetables and even marinades to see just how effective the herb can be.
Oatmeal
The ultimate way to start any cold fall day, oatmeal is packed full of more health benefits than you might have realized. Starting your day with a bowl of the stuff will help to keep you fuller and keep your digestion moving, too. The oat bran in the whole grain can work wonders against the effects of indigestion and bloating, making it easier for your food to work its way normally through your system.
Fennel
Crunchy, fresh and kind to the tummy, fennel is the ultimate anti-bloating food. Coming into season in the early fall, the vegetable is renowned for its tummy relaxing properties, helping to relieve bloated or gassy feelings in the stomach. If you're not a fan of the stuff in salads, try brewing the seeds into a nightly tea. Your stomach will feel better and you will feel all the less bloated for it.
Miso
When the days are as cold as the night, hot foods can seem like the only option. If you're dealing with a bloated tummy, however, you're probably not going to want something too heavy to eat. Try turning your attention to miso soup. A natural source of probiotics, miso can work wonders against indigestion and bloating, having your tummy back on track in no time at all. Balancing the bacteria in the gut, the soup will have you back on your feet, enjoying the spoils of fall.