If you're a runner, changing up your shoes is an essential part of the workout. Depending on the kind of terrain you're using and...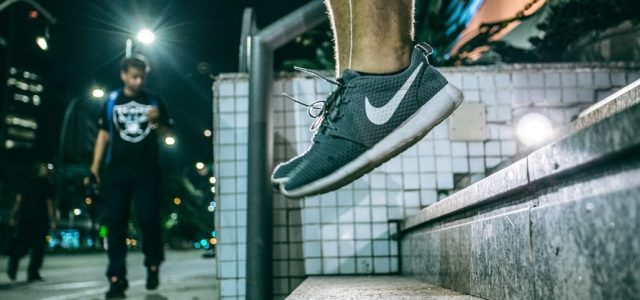 If you're a runner, changing up your shoes is an essential part of the workout. Depending on the kind of terrain you're using and the time of year, there are any number of sneakers that can work for you and it's up to you to change them frequently throughout the year. With the cold weather well and truly here, you might be thinking about where to find your next pair of winter running shoes. Look no further. These sneakers are perfect for all kinds of terrain during the colder months, putting a little bounce back in your step!
If you're a long distance runner, you're probably already well acquainted with Asics running shoes. Fitted out with supportive cushioning, Asics are great for the muscles, kind on the joints and don't feel heavy when you're running. If you're going to be running for long distances on the road, the Asics Gel Nimbus should be the shoes for you. Supportive and well cushioned, the shoes are as comfy as they come, helping to keep your legs in shape on a longer run. The sheer amount of gel cushioning will also ensure that your knees don't suffer in the long run, and that you can feel your best after every outing.
Got a race that you're working towards? You're going to want a boost in the right direction. If you're on the search for a leg up, the Adidas Ultra Boost sneaker is a great place to start. As well as being flexible and light, the running shoe is kitted out with a thick cushioned sole, which reflects the energy that you put into it. As you hit the pavement, the sole bounces back the pressure you have put in, propelling your body that little bit further forwards. You might just find yourself going even faster with these shoes.
High cushioned sneakers are a great investment for the road runner, so if you're going to be hitting the sidewalk on your daily jogs, it's worth seeking out a good quality pair. The Hoka One One Clifton shoe is one of the best out there for the regular runner. Fitted with a deep sole, the shoe is formulated to offer the maximum amount of support on longer runs, helping to keep you going for even longer. The sneaker is light as a feather, too, and is the perfect accompaniment for a longer run.
Not all runners take to the same kind of terrain, however. If you need a little bit more flexibility when you're jogging, it can be worth investing in a pair of medium cushioned shoes. Feather light and highly flexible, the APL TechLoom Pro will mould itself to the shape of your foot, moving as your body does. The material lets your feet move naturally as you run, resulting in a more comfortable and free exercising experience. If you're going to be going on grass, turf or in the gym, this shoe can give you all the support and movement that you need.
Another fantastic medium cushioned shoe is the Reebok ZPrint 3D. Cut low in the ankle, this running shoe is also phenomenal on the movement front, giving you a natural amount of freedom on your run. The sole is kitted out in a medium cushion, bouncing you back as you go without minimizing the amount of movement you have.
Gym bunnies, rejoice! New Balance have come up with a shoe that is perfect for your workouts and can easily incorporate into your outfits. Lightweight and low impact, the New Balance Fresh Foam Zante v2 will give you just the kind of bounce back you need on exercise machines without weighing you down. If you're a fan of walking, these trainers are also fantastic, cushioning your sole to give you to maximum amount of comfort.