So, you left your phone on the bedside table overnight, now it's dead. The problem is, you have a date with a running trail...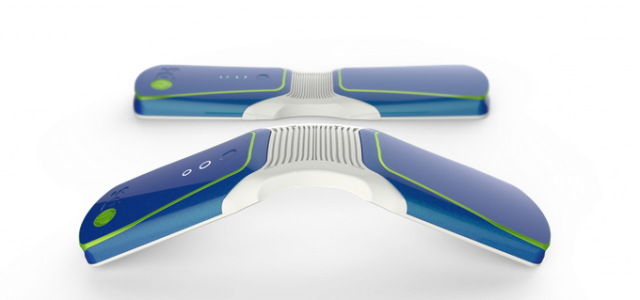 So, you left your phone on the bedside table overnight, now it's dead. The problem is, you have a date with a running trail in fifteen minutes, but no time to re-charge. Running without tunes isn't even an option, but what if you could charge your phone as you ran?
With no cables, no clunky battery packs, the EXO Charge is a wearable that will charge your device while you're on the move.
Recently launched on Kickstarter, EXO is the brainchild of One Power Systems (OPS), the creators of the Atom power bank. The Atom recharges, powered by machine workouts (not free weights).
The EXO has been designed to work with the Atom power bank, so together your gym workout never has to end, but out on the trail, the Atom is just dead weight. EXO is the first truly wearable power bank, totally wireless and sleek as all get out.
The good news is, you could be the first to own one.
Wearable
This is the power bank that you can easily wear.
Of course, you could shove any lipstick power bank into your pocket to recharge your device, but you'd have to keep the cord connected from the power bank to your phone. That means you'd have a lot of things crammed into your pocket.
You could carry a backpack, but those are cumbersome if you plan to move fast. Even a walking speed will make a pocket full of electronics mess up your gate. If you're planning to be mobile, there really wasn't a good solution before EXO.
The EXO will attach to your clothing or device via magnets, so you just connect then go. The developers for this product are also working on smart active wear which will be interactive with the device.
Wireless
Both the power bank and its charging station are wireless and magnetic. You slap the EXO to the wall when you're ready to charge it back up. Then, once it's full, you pull it off the wall, connecting it to your device. It's just that simple.
There are no wires to connect ever. While that may sound like no biggie, if you've ever tried to recharge your device while on the run you know how difficult that can be.
Not just runners and hikers will appreciate this convenience, but travelers too.
Most travelers try to carry as little as possible, but they often spend hours away from charging stations. With so many devices, available airport wall sockets are impossible to locate. This means travelers need something else to boost their batteries.
EXO to the rescue.
Sleek
Styled like an updated clamshell phone, the EXO is designed to be flexible. The hinged section between the two parts of it flexes. This way it moves with you, instead of sitting on your body like a chunk of metal.
The shell of the design is slim so it doesn't stick out much. There are a couple of lights to let you know where it's at in the charging cycle, but other than that, it's a very sexy power bank.
EXO just launched their campaign, so if you hurry you can get in on the ground level.
Until batteries are able to last longer on one charge, we'll all need a power bank at some point. The OPS team would have you think of Iron Man when you think of their device, but we think it's a little sleeker than Iron Man's suit.
What do you think?