Getting the most out of your day is all about the kind of breakfast that you have and while you might choose to skip...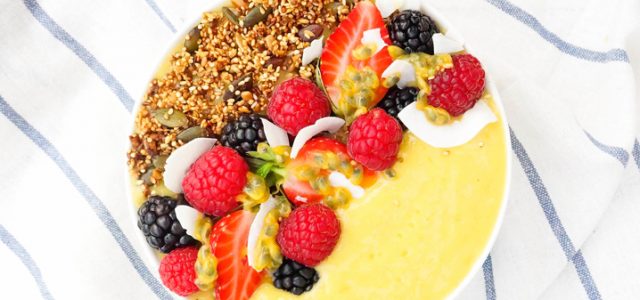 Getting the most out of your day is all about the kind of breakfast that you have and while you might choose to skip the meal entirely, or grab a quick snack on your way out, there's good reason why you should give your breakfast a little extra thought. Starting the day with a clean, healthy meal can help you to feel decidedly better about yourself and your health, giving you the boost you need to keep going up until lunch. Are you ready to feel more productive? It's time to get your breakfast chef's hat on.
When it comes to healthy breakfasts, combined bowls are one of the best foodie choices that you can make, keeping you on tip top form throughout the day. This banana and mango variation is perfect for those bright summer starts, putting a spring into your step before you've even left the house. While the toppings are you choice, filling your bowl with a variety of seeds and fruits can be a great option, keeping you full well into the day.
2.Mixed Berry Cobbler Smoothie
Fed up of drinking the same old smoothie for breakfast? It's time to shake things up a bit. This mixed berry smoothie has all of the trappings of a healthy start to the day and it won't leave you feeling sluggish and bloated, either. Blending a healthy dose of fats, antioxidants and proteins, the smoothie has everything you need to start your day right, keeping you on a healthy trajectory throughout the morning.
Of course, the thought of eating something fruity and sweet in the morning might not appeal to you and for when hunger strikes, sometimes the most savory of dishes will only really do. If you've got a little extra time on your hands, this sweet potato frittata is a great breakfast option; helping you to start the day in a clean way. Packed with spinach, tomatoes, eggs and bacon, the dish is as satisfying as they come, helping to keep you going well past the morning. You can even try whipping up a bigger portion and enjoying it as part of your lunch!
Eggs are the perfect way to boost your breakfast and eat clean first thing in the morning and as far as protein packed recipes go, this one takes some beating: Packed with healthy spinach, mushroom, collard greens and Greek yogurt, the dish truly brings a healthy platter to your early morning meal and is a makes perfect post-workout fuel. You can try making this dish for a later meal, too; packed full of ingredients, it's incredibly satisfying.