Wearables are cool, great, but never cute. That is, they weren't until Kate Spade entered the picture. In a world where the best a...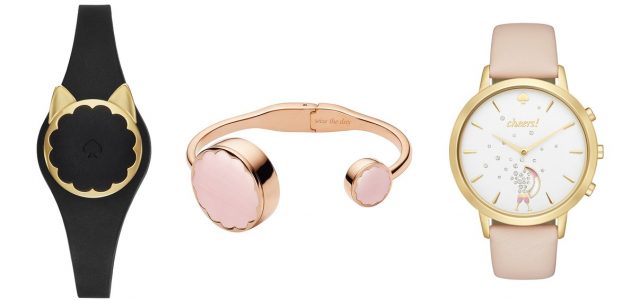 Wearables are cool, great, but never cute. That is, they weren't until Kate Spade entered the picture.
In a world where the best a wearable could do was sexy, why shouldn't they be cute? How else are we going to match them to our cute shoes and bag combo?
You know what I'm talking about, right fellas?
Alright, so Spade isn't targeting those of us with Y chromosomes. That's cool. In fact, it's great. It's even cute, but not in a condescending kinda way.
The more people we get wearing wearable devices, the sooner they will evolve into other adjectives like invisible.
Spade's new line of wearables is more than cute. They're functional. They're fashionable. They're not yet available for purchase.
Function
Spade's no stranger to technology. Last year she introduced us to the Everpurse, which is still available for purchase. Available in two version, a clutch and shoulder bag, in different patterns and colors, the Everpurse is a utilitarian purse for re-charging your iPhone.
No surprise, the Everpurse is a good looking bag. (I didn't say cute… but it is.)
The new line of wearables, as far as we can tell, offer three form-factors. There is a traditional silicone banded tracker, decked out with a gold kitty-cat face, of course.
Stepping up the fashion, she's also offering a wrist bangle tracker, plus a smartwatch. As far as what exactly these wearables track, we can only speculate.
The details are not yet available.
Fashion
The most boring of the bunch, the silicone tracker, is still more fashionable than its silicone counterparts. Yes, it's boring old black, but that kitty cat frame and Spade signature icon!
The wrist bangle looks nothing like a wearable. It's pink. It looks like jewelry.
The watch, however, is the showpiece. It's also pink. Rumors are it will be similar to Fossils smartwatches as Spade has a licensing deal with them.
The watch offers what no smart watch can: champagne bubbles. In fact, not just bubbles, but two champagne glasses clinking, the bubbles rising to the word "cheers." Guess it's always time for bubbly in Spade's world.
Other than the decor, it's a traditional analog watch face, which is a departure from the Fossil Q line. It doesn't appear you'll have any touchscreen options, so operation will likely be via the companion app.
Purchase
Initial reports were a November release, but more recent reports indicate September for in-store and online sales.
Another source indicates the bangle will go on sale in August, the other pieces in November. So, it seems something will be available in September.
Pricing will be in the $125 to $250 range, the watch landing on the 250-side.
Wearables like this can bring more to the wearable table than new technology.
As we move from just the early adopters wearing trackers, into the general public playing along, the fringe gets even more interesting. It sometimes takes just the right affiliations to break through.
Not to get too far into the right field at this point… UFC is an example of a product that was unknown before they had the right endorsements. Since then, mixed martial arts has all but completely shut down other fighting platforms.
Affiliations are a good thing for growing industries. Spade is good for wearables.