Along with trying to hack your brain to start a new habit, you're also on the lookout for a workout facility. There are so...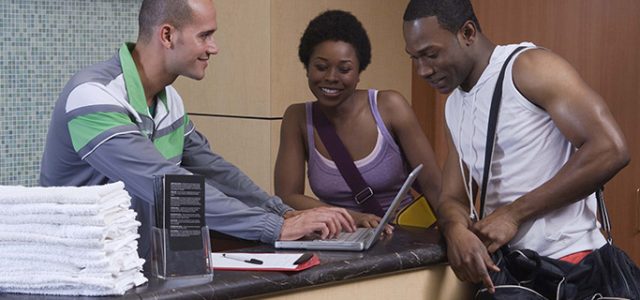 Along with trying to hack your brain to start a new habit, you're also on the lookout for a workout facility. There are so many options. Costs and features vary, so consider wisely to give yourself the best chance. Knowing where to enroll will require you know a little bit about yourself.
Consider these things:
Am a loner or do I like support?
Will I join alone or with someone else?
How much am I willing to spend per month?
Do I know what I am doing or do I need some instruction?
What matters to me more? Distance to Gym? Hours open? Cost? Cleanliness? Other things?
Plan to visit at least three gyms that make your list, once you decide which type of gym might fit into your criteria. Insist on a trial.
No matter what they say, do not buy on fear, unless you like buying that way. If a facility works overtime to pull your fear of loss strings, then that is how your relationship will be with the employees of that facility.
Consider that no "good deal" is worth the stress. There will always be deals. What's more important is you find the right facility for you.
Big Fitness
$19-$200
These gyms tend to sell more of the low-end memberships. They offer higher-end facilities with more amenities.
As the years pass, outfits like Bally's Total Fitness, LA Fitness, 24 Hour Fitness, Planet Fitness, and Anytime Fitness, offer more and more in the way of space and amenities.
They are also paying the bottom dollar for front line staff, so you get what you pay for with service.
If you are not self-guided, you will need a trainer in one of these gyms, which will cost you more. Expect to spend $50-$200 more per week on a trainer.
High-end Fitness
$120-$1000+
The Equinoxes, Bay Clubs, Goodlife's and their cronies offer a higher end version of what Big Fitness offers.
For your top dollar, you get better service, efficient equipment repairs, high-end fixtures, extra amenities, and loaded facilities.
Like Big Fitness, you may want a trainer but plan to pay twice as much.
Group Fitness
$100-$500
We're not talking about aerobics classes, although you can find those too. These are environments where the group is as important as the training.
For people who need the support of others, Yoga, Pilates, Crossfit, functional fitness, Boot Camps or other group training environments can drive consistency.
Habit is the most important aspect of your program. You will pay more for these facilities as they are usually small-group training facilities.
Think of the total cost landing somewhere between a Big Fitness membership and hiring a personal trainer.
Private Gym
$30-$200+
Mom and pop gyms are still the largest percentage of gym options. They work because they open in small neighborhoods, they build community relationships, catering to locals.
Most will join a Mom and Pop because it's close. Proximity is everything for desire.
You'll stay because you know everybody by name, but unlike groups fitness, you don't have to work out with these people, just NEAR them.
The fees for trainers in private gyms tend to be commensurate with Big Fitness, but programs vary more. They are usually private trainers, sub-contracting with the owners.
No Gym – Group Fitness
Donation
If you haven't heard of this, first read our blog The Secret Fix for Your Fitness Dedication. Groups like November Project are in every city.
There are no costs to join, just like a cult, and just like a cult once you're in, you're gonna have to fight to get out.
Whether you agree with the November Project approach or not, doesn't change the fact that they've continued to grow since their inception.
These environments are good for people like group support, especially when they don't have to pay for it.
No Gym – Personal Fitness
$0.00
"I'm a loner Dottie, a rebel." -Pee Wee Herman, in Pee Wee's Big Adventure
For the person who wants to incorporate fitness into her life, but can't see joining a formal training environment, there is that time honored tradition of play. You remember, you used to do it when you were a kid.
You find a park. You jump, swing, push, pull, run and scream, hopefully when there are no children present.
Go before the sun comes up, definitely not after it goes down, but if you're a rugged individual, you can be active anywhere.
Consider your options, but don't take your time visiting gyms. Try to bang out your prospects in one day.
Tell the salespeople you are considering your options. It's none of their business where you are shopping, so don't feel obligated to tell them.
Take notes as you go, then consider your notes in peace, away from the salespeople. You should have contact numbers for them so you can call to ask questions. Then make your decision that day.
Plan to get in a workout if you can, if not the same day, the next one. Right now is the best time to start your new habit.