Now that summer has well and truly arrived, the kinds of foods that we want to be eating have switched up a gear and...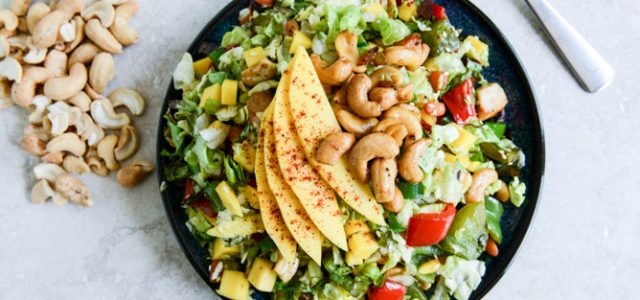 Now that summer has well and truly arrived, the kinds of foods that we want to be eating have switched up a gear and over the next few months, it's all about light bites and keeping cool. If you're trying to experiment in the kitchen however, the same old list of summer salads and barbecued bites might seem a little tired and this could be the year that you want to try something new. Branching out in your cooking routine doesn't have to mean kicking your diet to the curb and by simply switching up some of your favorite recipes, you can whip up a dish that is both tasty and great for your health. While the thought of yet another summer salad might seem like no big news, these recipes will blow your current routine out of the water. It's time to get chopping.
Want a recipe with a little bit of bite? This crunchy Asian salad is the dish for you. Bringing together all the classic elements of a salad with a spicy twist, the recipe is a great one to try when the weather turns really hot and you want to throw together something light and tasty. The salad is fresh, crunchy and bursting with nutritional benefits. It's just up to you to do the preparation and you can have a dish for any mealtime!
Who said that a salad couldn't have some sweet flavors? This avocado, spinach and strawberry number makes the perfect accompaniment to any summer barbeque and can be whipped up in a flash! As well as being packed full of flavor, this recipe is brimming full of healthy protein, helping to keep you feeling fuller for longer. You can even try adding a few toasted nuts to up the healthy content; it's all about listening to your needs.
Taking a healthy twist on the classic recipe, this kale Caesar salad will really give you something to write home about. Packed full of the iron, fiber and protein rich leaf kale, the salad is a seriously tasty way to do your body a little extra good, giving you bucket loads of fighting power during allergy season. Finished off with a Dijon mustard and anchovy dressing, the salad is bursting with flavor and is guaranteed to be a real crowd pleaser.
Getting on a health kick is all about getting the right mix of colors in your diet. This sugar snap pea and fennel salad is a great way of upping the greens in your diet, giving you all of the iron and fiber you need to enjoy a healthy body. Whipped up in a matter of minutes and finished off with an apple cider vinaigrette, the salad is the ultimate light bite for any hot day.
Protein is essential to a healthy and balanced diet and getting your fill at every meal time can help you to really feel at your very best. This chicken and cashew salad comes brimming with the stuff, helping you get well beyond your recommended intake. Served up on a bed of fresh vegetables, the chicken and cashew add in serious flavor; who said that eating healthily meant that you had to scrimp on taste?
Want to really push the boat out this summer? This honey grilled watermelon salad will help you to do exactly that, serving up a range of flavors that you might well have never experienced before. Light, flavorsome and just sweet enough, the salad is a great way of experimenting with a range of different tastes, and it might even inspire you to take your cooking skills to the next level. Finish the dish off with a drizzle of balsamic glaze and you're good to go.
Not all salads come from a bag and this roasted Moroccan carrot recipe will really test your kitchen skills. Bursting with spices and packed full of slow roasted vegetables, the salad is practically a meal unto itself, so don't be surprised if you find yourself coming back for more. If you're feeling experimental, you can try substituting the carrots for roasted sweet potato or parsnip; the world is your oyster!