If you don't want to wear something on your wrist to measure your health, but find the data from your smartphone lacking, then perhaps...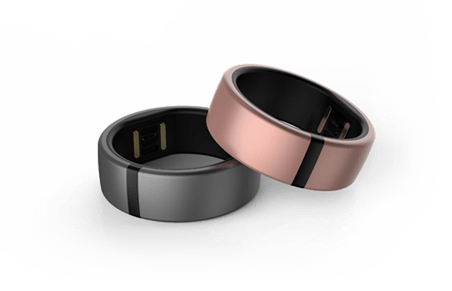 If you don't want to wear something on your wrist to measure your health, but find the data from your smartphone lacking, then perhaps the Motiv smart ring will bridge the gap. What Motiv may lack in accuracy, it makes up for in subtle charm. You can even buy it right now.
If you want to know what else is out there, here are 7 Sexy Smart Rings You Can Sport Right Now.
The Motiv ring is small enough to warrant serious review for those of us who don't like bulk, but it's simple enough that you don't have to be a techie to use it. It's as easy as finding your size, then putting on your ring and charging it every week or so.
This is my favorite wearable news today.
Small
If you've been around long enough to see smart rings come and go, you're probably keen to one connection between them all. They're all kinda big. That, or they're buried in the cemetery of failed Kickstarter projects.
It's hard enough to sink chips and sensors into a wristband, but wrapping them into a ring that actually works is rocket surgery. If Motiv has nothing else going for it, it's tiny.
Not only is Motiv small enough to match your other simple bands, it looks as cool. For this writer, it looks better than some of the junk I've tried to sell as hip jewelry.
You will suffer no auxiliary finger pressure, from pressing the ring between your digits, nor will you catch Motiv on random things as you walk about.
If you've ever snagged a ring on the handle of a drawer before, you know just how much fun that can be. [Read: not fun.]
Simple
Motiv may not beat the Fitbit for accuracy. It doesn't have to. It gives you a baseline. Rather than just track your steps, Motiv tracks your active minutes. Since steps are not a true indication of your health, I see nothing wrong with establishing another baseline.
The goal is measure if you are more or less active than before. Solved.
Motiv will also track your heart rate and sleep. Because it lasts for days on one charge, you can actually use it that way. Motiv also tracks your calories burned, activity types, and yes, your steps.
To start, Motiv will offer two colors, rose gold and slate gray. The exterior of Motiv might be simple, but the insides are anything but.
Housed beneath the surface is a 3-axis accelerometer, an optical heart rate sensor, and a smart LED sensor. You can charge it via the included keychain or USB charger
Easy
The ring is waterproof to 50 meters, so you could even take this ring diving, as long as you don't go too deep.
Motiv lasts for five days on one charge. You put it on, then go about your life. You may want to download the companion app for your iPhone or look at the data, but other than that you just wear it. Data transfers via Bluetooth, duh.
Because it's waterproof, you don't have to take it off when you wash your hands or do the dishes. It's made of lightweight titanium, so good luck damaging this ring.
Okay, so what's the bad news? Sorry Androidians, Motiv is only iOS compatible for the time being.
Also, you can fork over the cash now, but you won't get your ring right away. They are technically in a pre-order status. You'll get email updates, but the rings won't go out for a few months, in Spring of 2017.
Once you place your order, the team at Motiv will ship you a sizing set. You tell them which one fits, then presto, they'll send that size.
If you're ready for that ring, check out the Motiv site. You could also watch this awesome video.