While the wearables community waits with bated breath for Apple's next Watch (not really), Polar announced the M600. It may just define just what...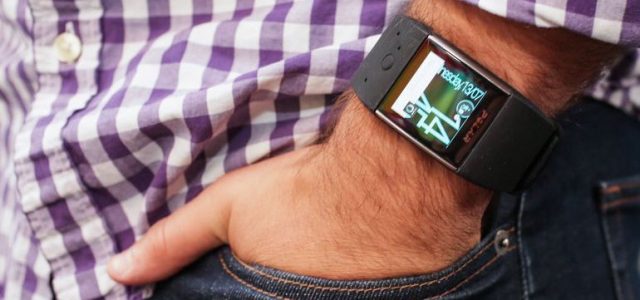 While the wearables community waits with bated breath for Apple's next Watch (not really), Polar announced the M600.
It may just define just what direction the smartwatch community needs to move if they want to compete. It might even take a divot out of Apple's next generation of adopters.
Why wait when you can have what you want right now? There's just one kicker. It's Androidwear. On the other hand, it's Adroidwear on a Polar device.
Polar has been making wearables for athletes since before Android existed before Google existed. They made this game. They've even been at it longer than Garmin. In fact, the M600 may give the Garmin Vivosmart HR+ a run for the money.
But, let's slow down. The M600 doesn't do everything. It does all the things an athlete wants from a fitness tracker, in a stylish form factor, from a brand with a pedigree so expect widespread adoption.
It throws all the right combos.
Wearable manufacturers attempt to solve a complicated puzzle.
On one side of the spectrum, there are devices that do one thing well. Think wearables for safety. Then there are wearables that try to do everything. Think Apple Watch.
Between those two points land every wearable on the market. The M600 lands towards the do everything side, but with athlete's needs in mind. Yes, it tracks the minimum, 24/7 activity, sleep, calories, and distance, but it also gives coaching.
In fact, no device out there is more comprehensive with over one hundred sports profiles loaded. That includes swimming. The M600 is waterproof enough to do laps.
If you're sticking to the land, you may want to know how far you went.  The M600 has GPS, a feature appearing in more devices but missing from so many previously, including great devices from Polar.
For the cross-training athlete, the M600 is the most versatile wearable available.
M600 is for athletes with style
To do that, you may expect the M600 needs to wear like a tablet on your wrist. Nope. It's smaller than the Apple Watch, with cleaner lines. That way athletes don't have to worry about anything snagging their device.
The display experience is 1.3 inches of color touchscreen action. That matters, because the M600 offers the Google suite of apps, being it is Androidwear.
This might not be high on an athlete's list of fitness trackers priorities, but a nice feature when desired. It's less like a smartwatch that happens to track fitness metrics, more like a fitness tracker that enjoys smartwatch features.
It even has a microphone, so athletes can leverage the google voice activated features of Androidwear. This is huge when you're too winded to navigate a small screen.
Oh yeah, and the heart of the device pops out so you can change the strap color to match your gear.
It's Polar.
The operating system might be Google but make no mistake. This is a Polar device. The fitness aspects of the device filter through Polar's software. It connects to Polar's apps, syncs with Polar Flow and Polar's training programs.
Not content with the current standard in wrist-based optical heart rate monitors, Polar created a new, more accurate LED system for the M600.
If nothing else, it's as sexy as a heart rate monitor can be. Considering the market, plus the fact that this is a Polar-branded device, the $330 price tag isn't too offensive.
It's humorous to think anyone waiting for the next Apple Watch would purchase the M600.
The Polar won't look right in the boardroom and the current Apple Watch, at least, will struggle to keep up with the M600. It's more likely that someone would own both than one over the other.
In any case, for athletes who want a device that does it all, the M600 is a good way to go.