In this day and age, it's easy to feel like the world is moving at 100 miles an hour. Catching your breath when the...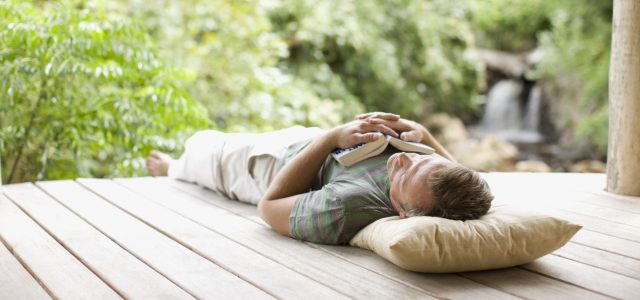 In this day and age, it's easy to feel like the world is moving at 100 miles an hour. Catching your breath when the rest of the world is on fast forward can seem like an impossible task and before long you might simply give in, get up to speed and keep running yourself ragged. While the modern world may have stigmatized the idea of resting, you need to take it easy from time to time in order to keep your health in check. Taking time off is not a sign a weakness and by giving it a greater priority in your life, you can feel better for longer. It's time to kick back.
Embrace Slowness
Do you act like time is slipping away from you? While days might pass by in a flash, you have a great deal more time on your hands than you might have believed; it's simply about changing your perspective. Taking the time to savor a meal, enjoy a cup of tea or simply be still can help to readjust your idea of how fast or slowly time is getting away from you. Try to have at least one moment during the day in which you take the opportunity to be on your own. By switching off your mind from your everyday stresses, you can start to appreciate the power of slowness.
Make Your Health A Priority
The more stressed that you make yourself, the bigger chance you stand of doing your body harm. Over time, constant feelings of anxiety can begin to take their toll and before long, you can end up feeling ragged and run down. Instead of thinking about how much your body can do, consider what you can do for your body and health. By getting enough sleep, relaxing, going outdoors and following your interests, you can help to keep your health levels in gear and give yourself the chance to destress. Relaxation is all about your health.
Schedule In Downtime
If you have trouble switching off from your everyday tasks, try approaching moments of rest like you would all other jobs. Scheduling in 15 to 30 minutes in your day to turn off your phone, get a coffee and sit quietly can help you to shift into gear and refocus on taking it easy. Scheduling in rest time means that you will not have to feel guilty about kicking back for a little bit. Make your relaxation a regular occurrence; it's in your best interests.
Keep It Simple
The more that you have on your plate, the easier it is to feel overwhelmed by it all. When it comes to your daily schedule, try to keep things as simple as possible. Maintaining a clear work schedule can help you to keep on track with your daily tasks while knowing when it is time to switch off and start to relax. Once you start bringing your working life into your home environment, the cut off point between work and play gets blurred and you might start to feel a whole lot more stressed as a result. As much as you can, keep work at work. It can help you out in the long run.