Recently introduced by Royole, the Moon foldable 3D virtual theater is like a private movie projector made just for your eyes. It professes to...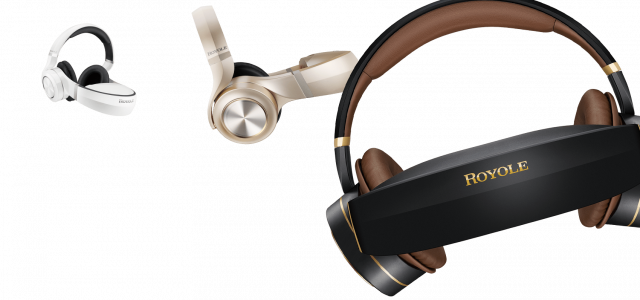 Recently introduced by Royole, the Moon foldable 3D virtual theater is like a private movie projector made just for your eyes. It professes to bring all the glory of 3D and 2D formats to travel-size so you can your movie on wherever you see fit.
If you've traveled via airplane in the last twenty years or so, there's a good chance you've experienced the SkyMall. You know, the gadgety magazine that sold made for TV goodies you just had to have?
At one time in the SkyMall rag, they sold a headset that professed to create a theater-like display. I often wondered what it would have been like to connect my laptop to those futuristic goggles, especially on a plane.
Apparently, I missed my chance. They no longer carry said headset. Since then, we've ushered in a new era of headgear aimed at creating whole worlds in front of your eyes.
The Moon from Royole is not VR. It's a screen perspective, not an immersion, but if you have the cash to spend, you won't care. What Moon does is bring a large cinema experience to your eyes, but from only inches away, complete with beautiful audio in a smart design.
Large Cinema
The apparent screen you view is as big as 20-meters (800 inches) if you'd like, curved to accommodate your field of view. You can make it smaller too.
What's crazy is that screen will only be 58 to 70 mm in front of you, but it will seem much further away. The resolution is HD (1920×1080 for each eye). The refresh rate is paltry compared to VR headsets as 60Hz, but the Moon won't be refreshing complex game content.
It will, however, deliver 3D content that is more immersive, more vivid than any other 3D glasses you've worn. Royole claims to have eliminated the eye-fatigue that comes with wearing VR headsets. (Perhaps this is what killed the SkyMall headset?)
Beautiful Audio
There is no way you could wear these walking down the street unless you were only using the headphones portion of the device. Even then it may not be wise.
With active noise canceling at greater than 92%, Moon almost completely cuts you off from the outside world. You shouldn't even stand up once it's over your eyes.
With a less than 1% distortion rate, the cans on the Moon headset preserve the sound of your content almost exactly as recorded. This, combined with deep bass means you won't miss a note.
Smart Design
Menu navigation is via the side of the cans, a 3D touch sensor. The brains of Moon live in a smartphone-sized, 24-bit drive, which tethers to the headset.
You have three color options from which to choose, black, white or gold. The visor is not as tall as what we see from the VR headsets.
Moon's headphones and visor collapse into one, which looks more like studio-style headphones when collapsed. Albeit styled with more classic design elements, these remind me a lot of Avegant Glyph headset in the way that they could pass for simple studio cans if you didn't know better.
Under Hood
Charging time for the Moon is 2.5 hours, but you get five hours of playback. You can store up to 32GB of data on your device, which works out to a handful of movies.
Royole promises a 128GB set soon. It even comes with 2GB of RAM, presumably for navigating the Moon OS menus and loading up content.
Moon uses side-by-side anaglyph 3D, but also plays 2D, most video, image and audio formats.
One could argue in favor of going to the movies over the $800 you'll drop getting into a Moon headset. Yep, but in the movie theater you also have to work around their schedule, deal with talkers and crying babies, pay for expensive popcorn and sit in bubblegum.
Royole's Moon will likely only appeal to the person who must have everything, but if you get the chance to test them, good luck going back to watching movies on your iPad ever again.
For more information or to purchase the Moon, head over to the Royole site.