The recently awarded My Virtual Mission app is surging in popularity, and with good reason. Your normal gym time, which can be boring, suddenly...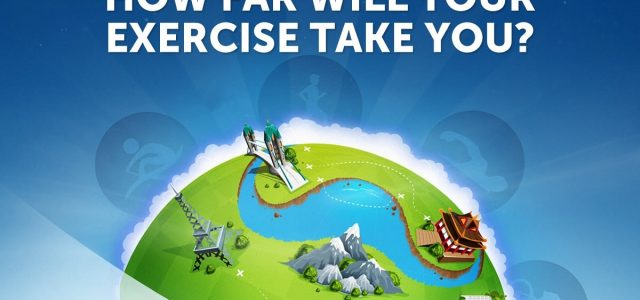 The recently awarded My Virtual Mission app is surging in popularity, and with good reason. Your normal gym time, which can be boring, suddenly has a goal, stretched out across the world. You have to log the calories to complete your virtual missions, but you don't have to log the actual miles, er kilometers.
Although the concept is a little confusing to read about, we think we can clear things up for you.
There are many features of this app that we like for you, which we'll explain as we go, but this may the smartest motivating app design in a long time.
App
It's free to download, but there are in-app purchases. The free version offers some limitations. If you like it, you'll upgrade right away.
They offer iOS and Android versions of the app, plus you can access it on the web. My Virtual Mission builds on the success of the Strava app, a workout mapping app similar to Runkeeper and other GPS-based apps.
In those types of apps, they are not tracking your virtual movement. Your GPS coordinates record where you went, how fast you went there, and other related data points.
In My Virtual Mission, you complete missions created by you or others, which may stretch around the globe.
It's critical that you understand the name of this app is literal. You won't run around the globe for real. You could, but that's not the point.
The idea is that you run the same miles on a treadmill or in your neighborhood. Then you log your miles on the app and it tells you how far you made it with your goals.
Missions
The missions either you create or someone else does. You can search the My Virtual Mission library of missions to find one you want to complete. They aren't just running, either. They may include any mode of ambulation, including swimming.
You don't have to limit yourself to the ties of reality. Sure, in the real world you can't swim the Atlantic ocean, but in the virtual world, you can.  Heck, you can run across the water if you want.
Circumnavigate the globe however you wish. Add up your laps in the pool or kilometers on land, then plug them in.
You can set up checkpoints so that your mission is time-bound, which will help keep your foot on the gas as hard as you want.
Donations
As if running the planet weren't motivating enough, you can also collect donations for your efforts. As part of your mission, you can bake in the option for users to pledge to any registered nonprofit of your choice.
Putting money on the line, especially when it all goes to a non-profit, not only puts the right kind of pressure on you, it makes the time you spent less selfish.
Now you're not just working out to serve your vanity, but for altruistic reasons too. Just thinking about that aspect of this application makes my eyes water.
Experience
Using the app is simple, at least when setting it up. The download, as stated, is free. You can set up a profile inside the app or link it to your Facebook profile. That way you can broadcast to all your friends what you are up to.
Once you've set-up your profile, you can pick a mission or design your own. Missions are map-based. You can start anywhere in the world. You set the map points, the modes, and where the mission ends.
If you create your mission in a part of the world where Google street view has data, you can even see where you end up after loading in your updates, just like you were actually there.
There are also group missions for organizations that want to create a combined contribution.
With the increased interest in group fitness environments, what we have learned is that many people do better when there is a community involved. It helps to have people who support your efforts, but also people that see what you do.
My Virtual Mission bridges the digital divide in this way, facilitating an online support community that reaches anywhere.
Expect to hear more about the app in the new future. If your circle is not already, soon everyone will be talking about it.
You can learn more about the app by visiting the MyVirtualMission page or by just downloading the app.
You'll figure it out. You could also watch this video, which neatly explains everything.