When all you want is takeout food, there's practically nothing that can calm your cravings. While eating takeout once in a while is no...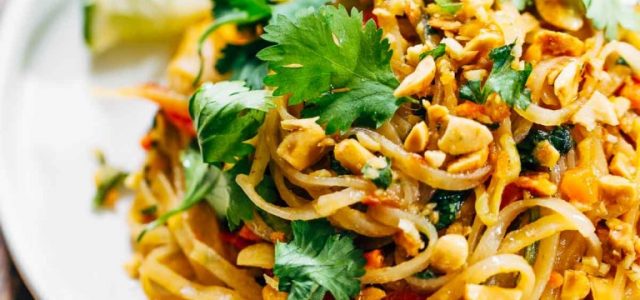 When all you want is takeout food, there's practically nothing that can calm your cravings. While eating takeout once in a while is no bad thing, consistently turning to convenience food after a long day at the office can soon start to take its toll on your body. If plastic containers are piling up around your kitchen, it's time to take a stand. These healthy recipes have all the makings of your favorite takeout treats, without any of the added bad stuff. When the days are cold and the nights are even colder, these recipes will see you right. It's time to cook up a storm!
Rather than heading to your local Chinese takeout spot, why not try your hand at whipping up your own meal? This Lo Mein is as easy as they come, clocking in at a mean 15 minutes from start to finish. Loaded with veggies and low in calories, this is a great dish to keep in the fridge, whipping out your leftovers when hunger calls.
Some nights, only a plate of chicken will do. If you're looking for a way to cut down on the fat and extra calories making your own version of a Chinese classic is the only way to go. While it might have all of the flavors of the original, this healthy General Tso's chicken recipe cuts out all of the bad stuff, letting the ingredients speak for themselves. This at-home version even contains a serving of broccoli for an extra burst of color. Who said that Chinese food had to be bad for you?
Pad thai is a real crowd pleaser, so this recipe is an excellent choice if you're going to be entertaining. Making a few small changes to the original set up, this vegetarian spin on the classic tastes every bit as good as it should. Packed full of fiber, protein and essential vitamins, this dish will really help you to get in good shape. The crunch is still there, but this time around, it's a whole lot more natural.
Thai curries are some of the most delicious out there but they don't exactly come light in calories. This version might just change your mind, however. A healthy spin on a classic Thai green curry, this dish cuts down on the heavy coconut milk to produce something that's a whole lot lighter. Packed full of flavor, this dish is perfect for when the weather gets colder, helping you to fill up on something really good.
When it comes to takeout food, Indian offerings are up there with some of the very best. If you're trying to keep your diet in check, this homemade Chana Masala is the perfect foodie option for you. Packed full of nutritious chickpeas, the recipe will give you more than you need in the way of fiber, helping you to fill up in the right way. Tangy and flavorsome, this recipe gives a huge bang for its buck!
Mexican food is always downright delicious but with all that meat and cheese, it's not exactly kind on the waistline. Enter beef taco bowls. A healthy spin on the Mexican classic, these bowls come packed with all of the extras you like, in whatever quantities you like them. As well as cutting out all the bad stuff, the taco bowls put you in the driving seat, making it easier for you to control whatever you're eating.