Apple announced a pair of cord-free earbuds for less than $160 which look like someone snipped the wire from the EarPods. They're calling them...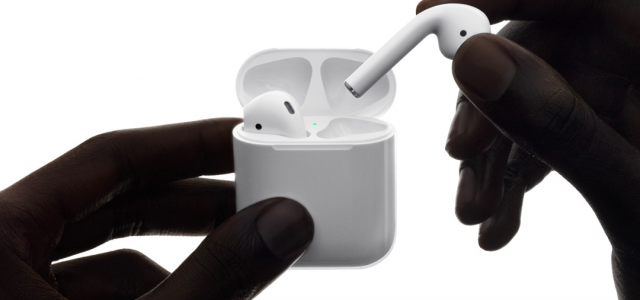 Apple announced a pair of cord-free earbuds for less than $160 which look like someone snipped the wire from the EarPods. They're calling them AirPods.
They did oh-so-much more than cut wires; they introduced a whole new chip. These could be a category killer if Bragi doesn't dig into their profits with their recently announced The Headphone. What's even crazier was seeing the AirPods for the first time during the Apple keynote.
We weren't surprised to learn the new iPhone 7 came with two cameras in the plus version or that Apple eliminated the old headphone port. Not one Apple fanboy balked at the Watch 2 styling, which is about the same as the Series 1.
For months we've been privy to the leaked information and images for these products. With the AirPods, the best we could do was speculate, until today.
They look every bit like something you'd expect to see from an Apple product, with some decent specs in tow. Their even dragging Beats by Dre along for the ride. There's just one problem.
Style
The greatest thing about the style of the AirPods was witnessing them for the first time in a Keynote. In this world of leaked images, I can't remember being so stoked to see something for the first time.
The promotional video in the keynote starts with a closeup of the AirPods in their charging case.
At first, they look tiny, but sliding them out of the case reveals posts which hang from each Pod. These posts house the mics and serve to keep the AirPods in place.
While we might have expected something closer to the Bragi or Nuheara designs, nobody was shocked that Apple went a unique direction. How very Apple of them.
Specs
They call it the W1 chip; it's new. Apple designed the chip to work fast and long, five hours on one charge. Of course, you don't have to find a power source to recharge them.
The case, we learned, carries enough battery to power them for 24 hours. You just slide them back in long enough to re-up. It will take just fifteen minutes to get three more hours of use.
Whereas with traditional Bluetooth headphones you have to pair them to your device, the AirPods are much simpler.
You simply open the case, then a notification pops up on your screen, asking if you want to pair. Once you select yes, you're connected.
You can also toggle seamlessly between devices, pairing with your Mac, your Watch or iPad.
Shrapnel
Apple owns Beats by Dre, so it was no shocker to learn they've developed products under that brand to compliment the AirPods, utilizing the W1 chip.
If you like the Powerbeats 2, then you will love version 3. They also will soon release a studio can style of Bluetooth headphones, also leveraging the W1 chip.
Silly
For all the things Apple did right, they forgot one thing. Ears are like snowflakes.
I, for one, will never buy a pair of these. They won't stay in my ears.
Unless you have the type of ears where that little notch (sometimes called the anti-tragus) holds any earbud perfectly, you will likely spend your every moment shoving these back in your ears until you step on one, breaking it.
This is a heartbreaking oversight from a company that is deadly committed to fashion over function.
We are curious to see how people react when these go on sale in October.
My prediction is Bragi rises up as the cord-free option to buy. They will have everybody else scrambling to present an equal product for less or equal cost. At best, one of Bragi's competitors could match the price of The Headphone.
Sure, Bragi doesn't have Apple's style, but who cares about that when you're working out when you just want your earbuds to not fall out?
Here's the video in case you missed it: