It's fair to say that 2016 has been the year for virtual reality. We've witnessed more platform launches and accessories this year than ever...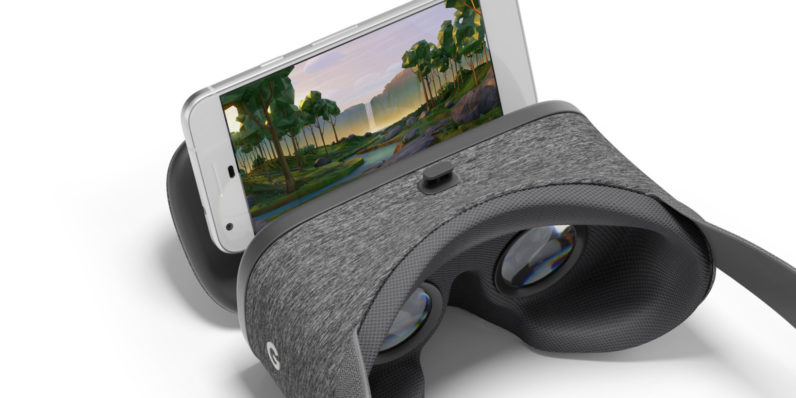 It's fair to say that 2016 has been the year for virtual reality. We've witnessed more platform launches and accessories this year than ever before.
As the fitness tracker end of the wearables, spectrum struggles to find it's way through growing pains, virtual reality steams full speed ahead. While the adoption of new tech is constant, fitness tracker companies are slow to adopt. Not so with VR.
Today's virtual reality options are the best of what you can buy. That's also the reason much of our current options are not cheap. It is possible to buy for your geeky VR friend without breaking your budget, but it's tough.
Virtual reality is a costly hobby. If you are a person of means, you could make that friend's Christmas. Let this list be your guide.
Best VR Gift For Newbie – Google Daydream
The cheapest VR headsets you can buy are the Google Cardboard variety. Those headsets range from literal cardboard headsets you fold to fit your phone, then use with Google's Cardboard app. The experience is meh.
For a little more scratch the Google Daydream headset offers a more refined VR experience. It still doesn't compare to wired sets like the Oculus Rift, due to processing speed and power limitations, but it is comfortable, balanced, and under $80.
You'll spend $79 to give your loved one a good idea of the VR experience. Daydream isn't just games. Users have access to Google's library of content, including Google Earth. One can virtually tour any places on Google Earth where they offer 3D views, places like the Eiffel Tower.
What one cannot do, is pair this headset with an iPhone. If your VR newbie is an Apple fanboy, go with the Cardboard set-up.
Best VR Gift For Pro – Playstation VR
This is sure to raise a few eyebrows from the Oculus Rift or HTC Vive fanboys. In many ways, the Rift and Vive are more advanced VR headsets, but they are costly. You don't just have to buy the headset, you have to buy a powerful PC to go with them. That can get expensive fast.
What the Playstation set offers that those two systems cannot is an existing ecosystem. It's still not a cheap gift, but it's nowhere near the cost of the other two systems.
Many users who would be interested in going pro on their VR will find the Playstation system a lovely upgrade. The user interface is solid, the processing speed fast enough, and the headset is comfortable to wear.
You can spend $400 on the headset alone or $500 on the VR bundle, which includes the Playstation tower.
Best  VR Gift For Hipsters – Elsewhere Wearable
The unofficial geeks, hipsters enjoy many aspects of tech that most would call geeky pursuits. Geeks beg to differ, but who cares?
Hipsters are more technically inclined than their non-hipster counterparts. They're more likely to appreciate obscure items, leather books, straight razors, and VR headset that look like a pair of 1800's steampunk theater binoculars.
The Elsewhere wearable works with any smartphone, and any image or video to create 3D stereoscopic views. It will work with your standard stereoscopic 3D video to create a VR experience, but it will also work as an augmented reality headset of sorts.
Elsewhere somehow turns reality and standard 2D into a more 3-dimensional view. The best thing about it is the cost. It's $50 apiece, making this one the lowest cost option on this list.
Best VR Gift For Aviation Fan – Power UP FPV
This is one product that really excited me in 2016. The concept is simple.
Using a Google Cardboard headset, included with the package, and an augmented paper airplane that you fold yourself, you fly your airplane with a first person point of view.
You control the movement of the plane by tilting your head, so it's about as close to flying as you get without a license.
At $200 this package lands in the middle of the pack for this list, but will blow the socks off of your VR enthusiast.
Best VR Controller – Gloveone
This gift is only for pro-lever VR fans, meaning someone who already has a Rift or Vive headset, but wants to go to the next level. Neurodigital's Gloveone is a haptic feedback glove, allowing users to interact with virtual environments, but also works as a controller.
This glove connects users to the physical aspect of the game like no other controller out there.
It's gonna cost you about $300, but that's not bad considering the Rift controllers cost $200 but don't give users this kind of haptic feedback.
Right now Gloveone is still in preorder with no shipping dates available until you through the pre-order process. It's a killer gift if you don't mind wrapping up a purchase receipt.
It's crazy to see so much diversity in the VR market when we've only just begun. I've said it before, and I'll say it again.
In 2017, while fitness tracker wearables struggle to regain their identity, expect to see some big moves from virtual and augmented reality headsets. It may be through these platforms that we someday rediscover fitness tracking.