When it comes to the list of "it" vegetables, cauliflower might not even make the cut. There's good reason why things are about to...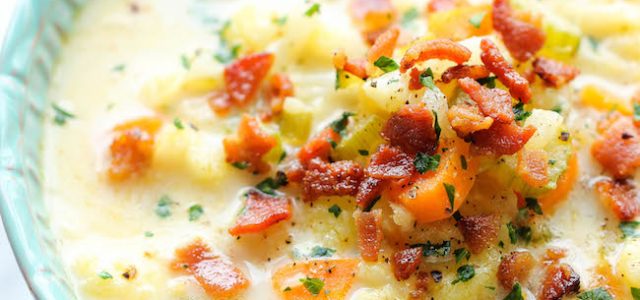 When it comes to the list of "it" vegetables, cauliflower might not even make the cut. There's good reason why things are about to turn around, however. Cheap to source, packed full of antioxidants and generally incredible for your health, cauliflower is one of the best foods that you can include in a healthy lifestyle. How should you be cooking it, though? If you thought that the vegetable was only good for boiling or dousing in cheese, think again. Versatile and easy to cook, cauliflower can be whipped up in as many ways as you like; it's simply up to you to harness its power.
Hold the phones; things for cauliflower have just become really interesting. This caramelized frittata shows off the vegetable in all of its glory and, packed full of protein filled eggs, makes the perfect dish to start your morning routine. Great for a weekend brunch, the frittata is loaded with more nutrients than your typical morning dish and won't cost you a lot of extra time in the kitchen, either!
Who said that breakfast was about cereal and coffee? If you put your mind to it, you can create something very special indeed and these savory breakfast muffins easily make the cut. Using cauliflowers in the place of flour, the recipe is a lot lighter than your usual morning fare, helping you to get your fill of nutrients without going overboard. While you can whip these up first thing in the morning, they also fare well in the freezer. Stash a few away for when hunger calls!
Looking for a healthy way to get your fix of comfort food? This cauliflower mac and cheese ought to do it. Creamy, light and oh-so satisfying, this simple dish can be whipped up at the drop of the hat. Doing away with all the fat laden extras of the traditional meal, the recipe lets you be as healthy as you like while enjoying everything you love. Adaptable and simple, the recipe even has room for all the extras that you fancy!
Hearty soups are what it's all about and with this cauliflower chowder, you can make the very best of the comfort and healthy food worlds. Lighter than your usual chowder, the dish won't leave you feeling heavy and laden down with calories, meaning that you can pile up your bowl to your heart's content. This is one for the cooler nights, so make sure you always have the recipe to hand.
Cauliflower does a good job of adapting itself to different cultures and by using it in place of your traditional meats, you can get a dish that is as tasty as it is healthy. This curried cauliflower and quinoa salad might just be the best version on the market, making full use of the vegetable's flavor while using it to add in a little bit of crunch. Bursting with flavors and packed full of nutrients, this spicy number is perfect for those evenings when you want to go a little lighter and still get a taste of something fantastic.
Sometimes, it is the simplest recipes that are the best. Letting the vegetable shine on its own, this roasted cauliflower recipe is incredibly simple to whip up and makes a great dinner time accompaniment. While the parmesan is entirely optional, it adds a whole load of extra flavor to the dish that you might not be able to resist. Whip this up when you're in a bind and watch as people come back for more!