Up until recently, the challenge for most fitness trackers has been the exclusion of GPS. Most simply didn't offer it, not without a paired smartphone....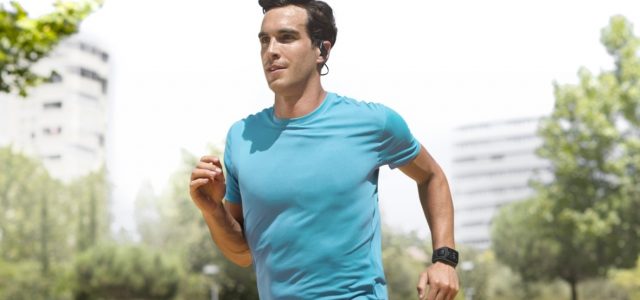 Up until recently, the challenge for most fitness trackers has been the exclusion of GPS. Most simply didn't offer it, not without a paired smartphone. When you run, the last thing you want is additional weight, even the slimmest smartphone.
Okay, that's not really a running set-up… but silly, right?
This year, every wearable went GPS. It seems we are drowning in GPS devices. Be ready. They're are gonna cost you, but if running is an everyday activity for you, then it's probably worth it.
On a budget? GPS Fitness Trackers Worth Owning Under $250
We've ranked these devices from the lowest cost to the highest. In this case, the cost is no indication of better or worse. For many people, the Vivosmart HR+ will do everything they need. Some will want a device like the Apple Series 2, which crosses from the trail into the office with style.
$169.99 (starting)
To read more about the new TomTom Spark lineup, follow this link.
Depending on the exact trim line you select, you will spend up to $250 on the Spark 3.
The most expensive version offers not only GPS but MP3 playback. This makes Spark the perfect companion for runners who like to rock out when the sweat.
Unlike any other device on this list, the Spark 3 offers something TomTom calls route exploration. Runners can go off route then find their way home using the device.
$199.99
To read our in-depth on the Vivosmart HR+ follow this link.
Building on the success of the Vivosmart HR, Garmin bolted on the GPS feature with heart rate tracking. The HR+ is a compact design for all the goodies under the hood.
For serious smartwatch fans, they will find it a bit small, but runners who just want a good device to track their runs, it's perfect.
What puts the cherry on top for the HR+ is the addition of swim ready tracking. Great for triathletes.
$199.99
Most will write off the Garmin Forerunner 35 as a knockoff of the Apple Watch. It's not, but the comparisons are obvious.
It's a square device in a world of increasingly round faces, but serious runners will find the buttons on the Garmin easier to navigate than the Apple Crown.
With this entry, Garmin beat the aforementioned Apple to the GPS game by a couple months, until Apple came out with the Series 2.
For your $200, you get Garmin's GPS tech, plus other smartwatch features like music management and notifications.
$330
To read our review on the M600 go here.
The Polar M600 came out just before the Apple Series 2 as if Polar didn't care. They didn't.
The M600 straddles that line between fitness tracker and smartwatch. More sporty than strict smartwatches, M600 tracks 24/7 activity, including sleep, and activity levels. It will even sync with your Google Play account, then play your tunes wirelessly..
The M600 goes a step further. It gives you coaching on over 100 sports profiles. Nobody else can boast that level of diversity.
It's the only Polar which utilizes Android's OS, baked into a touchscreen display.
$369
To read more about the new Watch from Apple, follow this link.
Definitely the most costly of this bunch, the Apple Watch Series 2 appeals almost exclusively to Apple fans.
It's not yet compatible with any other operating system. There's no love lost as many Android fans will adopt anything other than Apple first. For fans, it does a lot.
The Apple Watch is quite waterproof. You can swim with it. Apple won't advertise it, but you can go deeper than advertised before you'll start having problems. It also tracks GPS without your iPhone.
Combined with Apple's music, Apple's tracking and the lineup of App Store goodies, the Series 2 is a competent entry into the GPS wearable market for runners.
If you're willing to spend at least $200, you can get running as soon as your selected device arrives.
For this writer's money, spending $200 when I could spend another $170 to get the Apple Watch Series 2 is worth it, but I'm a confessed fanboy.
For most runners, the Vivosmart HR+ will do much of what they want, unless they need tunes. Then they'll be looking at the Spark 3 or the M600.