It's not even Halloween yet. I know, but planning ahead for your Christmas wish list is hard work. It also helps to get out...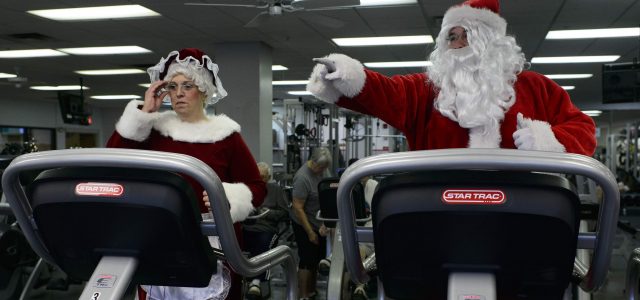 It's not even Halloween yet. I know, but planning ahead for your Christmas wish list is hard work. It also helps to get out in front of the pack. Some people do their shopping early. This way you can be sure to put the worm in their ear about what you would like. This isn't about you. It's about them. Do the right thing.
There is no Pew study or Washington Post survey behind this list. We cannot speak to the reliability of these products, other than what we've read online or what we know about the manufacturer.
These are simply the coolest things on the shelf or about to be on the shelf, that you may prefer to have on your body.
The headers for each section link to our more detailed reviews for each product. You could just send those links to your little Santa…
Is it a wearable? That's what it appears to be, but the GOQii (Go-Kee) is more a training system. The device itself isn't worth the scratch you pay for it, not compared to what you get.
For $30 a month you get unlimited personal training. Gone are the days of shelling out $50-$100 per session for someone to count your reps and carry your water bottle. Carry your own dang water.
While you're at it, wear whatever device you want. The GOQii works with other devices, it's that good. Devices like, the Flex 2 from Fitbit.
This wearable is brand spanking new. Fitbit finally jumped into the deep end of the pool. You can submerge the Flex 2 like you're Michael Phelps.
In fact, it will even count your laps for you. You don't have to do anything. The Flex 2 knows when you've jumped in the water.
It also tracks other fitness data, starting at $99. That makes the Flex 2 more affordable than most of the fitness trackers out there, which makes the Flex 2 a must have for your Christmas list.
If you're not into swimming, but do like running, hiking or biking, then consider the Polar M600. This little baby puts Apple to task, with its square face, simple lines, and a GPS feature.
The first Apple Watch doesn't even have GPS.
The M600 isn't quite as stylish as the Apple Watch, presuming the next generation is about the same. It does, however, eliminate many of the edges found on the Apple Device. There's less to bump into on the M600.
The downside is it IS Androidwear. Purist Apple fanboys won't give it a second thought, but you should.
Our prediction: everyone will want these after September 7th, 2016. Bragi takes out nearly every competitor with these completely cord-free earbuds.
They don't do all the things The Dash earbuds do, but the jury is out on how well The Dash work as a fitness device. (In case you're in the dark, The Dash houses a slew of fitness trackers, in addition to being wire-free earbuds.)
Get The Headphone on your list now so you don't wind up missing out later.
According to the latest study reported on Business Wire, simple fitness trackers are crushing their more complicated counterparts, namely, smartwatches.
Funny, Apple doesn't seem concerned. Despite being heavily criticized, the first Apple Watch doubled the sales of the first iPhone. That's hardly anything to balk at.
You can expect more of the same from Cupertino in the coming days.
If you're a haftatahaveit with all things Apple, then put pen to paper on your Christmas list. The Watch 2 is gonna be great. Promise.
From where we sit, it's either gonna be a GOQii-Flex2-The Headphone-Watch2 kind of Christmas, or you might swap out the M600 for the Flex 2.
That way you can wear your Polar when you run, but sport the Watch 2 when you're going out. You can capture all that data on your smartphone, then spline the information to your GOQii coach to get better. Game over.
Happy Halloween.